11.21.07
home | metro silicon valley index | the arts | stage | review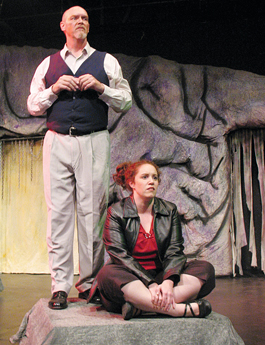 Photograph by Kit Wilder
GHOSTS IN THE MACHINE: Jacob Marley (Michael Jerome West) and the Bogle (Amanda Folena) must help Scrooge at City Lights.
What the Dickens?
City Lights turns 'A Christmas Carol' upside-down and puts Jacob Marley front and center
By Marianne Messina
IF THE FACT that you can recite Charles Dickens' A Christmas Carol by heart is starting to annoy you, Tom Mula's flipside view of the story from the ghostly world, Jacob Marley's Christmas Carol, mixes up the Dickens tale just enough to feel new. In this City Lights Theatre Company production, Ebenezer Scrooge's conversion from crabby skinflint to generous nice guy begins as an impossible assignment for the ex–Jacob Marley (Michael Jerome West). Marley learns that his heavenly wings are conditioned upon helping Scrooge (James Mantell) to have a heart. Hence, Marley invents the ghostly visitations with the help of a sort of alter-ego/sprite sidekick, who prefers to be known as a "bogle" (Amanda Folena).
In this somber afterworld without scene changes, a gray, stone, haunted-house holdover of a Purgatorio, the pixieish Bogle guides Marley, like Dante, past various sufferers and unidentifiable ghostly beings, filling him in on the heavenly rules. Stemming from a storytelling tradition with chunks of third-person narrative traipsing through the drama and with a past life as a radio broadcast, Mula's concept asks us to use our imaginations. And City Lights' production, directed by Jeff Clarke, seconds the motion (in absence of imagination, drink coffee).
Among the pedestrian costumes, only the ghost of Christmas Future (it's always Future with the personality), a robed silhouette and outstretched arms capped with twiggy fingers, offers some visual delight. Other creative touches include a surprise or two with Marley's chains (another Dickens detail that can't go wrong) and some scenes that dart out beyond the fourth wall. Running to a platform behind the audience, desperately falling on hands and knees to scavenge up dropped coins, blue-eyed Mantell, the relatively rounder partner, offers an accessible and sympathetic Scrooge.
Meanwhile the tall, bald-capped West makes a somewhat smug Marley, apparently the more intransigent of the parsimonious partners. Here and there, this production falls to some standard traps of the storytelling form: the false worship of literary language, where actors inadvertently keep a respectful distance from the life and drama; the tendency to confuse silence and dead space. The play is not without impressive moments, where players bring an extra dose of imagination to bear. As the Bogle, curly hair arranged in two bouncing tufts of ponytail, Folena is a bright light of personality, calling Marley "Old Crumpet" and "Old muffin" and less delectable oldnesses, like "Old Cold Sore." Folena is able to bring one of the zone platforms to life as she gives the impression it has trapped her in an energy field. Like Folena, Robyn Winslow provides a welcome liveliness, most notably as the ancient and crotchety celestial auditor. She's just enjoyable to watch, eyes squinching, fingers scratching through the balance book of sins, licking those fingers rodentlike for page-turning traction.
Because the first act focuses on establishing the conceit, the second act exercises more freedom in developing the redemption of Jacob Marley. It is also at this point that the tone changes and the show begins to emanate those Christmassy-warm overtones about redemption being found in forgiveness. And ultimately, the show finishes on a glowing note.
JACOB MARLEY'S CHRISTMAS CAROL, a City Lights Theatre Company production, plays Thursday–Saturday at 8pm, Sunday at 7pm on Nov. 25 and Dec. 2 and Sunday at 2pm on Dec. 16 and 23 through Dec. 23 at City Lights, 529 S. Second St., San Jose. Tickets are $15–$30. (408.295.4200)
Send a letter to the editor about this story.