11.21.07
home | metro silicon valley index | the arts | stage | review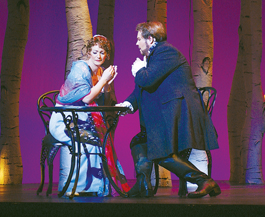 Photograph by Pat Kirk
SO NEAR, YET SO FAR: Werther (Christopher Bengochea) hopelessly desires Charlotte (Tihana Herceg) in Opera San José's production.
Love Struck
'Werther' whines and pines after an impossible love in Opera San José's version of Massenet classic
By Scott MacClelland
MASSENET'S opera Werther features a gorgeous score with haunting tunes and a concise, well-written libretto. It's a better opera than many more famous ones, and in Opera San José's production it hits a new high-water mark on many points, not least a reminder that Massenet is no slouch as an opera composer. If Werther has a downside, it is the title character itself, a melancholy aristocrat who falls in love with a young woman of more modest background who is betrothed to and then marries another.
Such was love in the "romantic" century, or as it was portrayed first by Johann Wolfgang von Goethe in his novel (from the mid-1770s) and then Massenet who witnessed the premiere of his opera in Vienna in 1892 (when Freud was on the verge of his psychotherapy breakthrough there). In today's world, Werther attracts little sympathy; he whines and pines, compulsively obsessing over the woman he cannot have and then shoots himself in the stomach.
The success of the opera, therefore, falls heavily on the title character, and the question do we sympathize with him or not? In last Sunday's cast (one of two), Christopher Bengochea delivered a remarkable performance, not only as the talented singer he is but also as much more of an actor than when he first joined the Opera San José resident program. Under stage director Olivia Stapp, he became his character, in the way he moved and reacted to the other principals and the action itself, right down to his facial expressions. His timing and body language were compelling, and his singing often quite moving. French opera has its own rules, having cultivated them from the Renaissance on. Chief among them is a light, clear vocal style that gives fits to singers trained in other traditions and to opera lovers who recoil at an Italian bull in a French china shop. Bengochea comes to this style naturally, but with the strength and intensity—to say nothing of an alluring sound—of the Italians when needed. More and more, this young man is looking and sounding like a big career is in his future.
This development only confirms Opera San José's stated mission, and we are now seeing its fruit coming to maturity sooner. Werther's love interest is Charlotte, sung by visiting mezzo Tihana Herceg in her first appearance with the company. Charlotte, the character, is modest and domestic, and only becomes otherwise after Werther simultaneously arouses her love and provokes her conflicted emotions. Herceg's singing was robust, colorful and emotional, compelling in the passionate scenes but out of proportion to her default domestic persona. Opera San José veteran Jillian Boye played Sophie, as the coquette in duets with the male characters, and as attentively sympathetic younger sister in the intimate moments with the increasingly distraught Charlotte. Kenneth Mattice sang Albert, Charlotte's husband, as effectively as the shallow role allows. Silas Elash as Charlotte's father set a strong tone in the opening scenes. Other minor characters were taken by Andrew Park, Lantz Warrick, Nicholas Patton and Tory Grayum. The youthful chorus members, Charlotte's siblings, were clear and obviously well coached.
Giulio Cesare Perrone's spare set design made much of a papier-mâché forest of tree trunks surrounded the staging area, with drops for house and church facades while Kent Dorsey's lighting colored the changing moods, especially those of the increasingly despairing Werther, as the performance progressed. Massenet's score is not only beautifully composed and orchestrated, but, as anyone will recognize, has served as a style template for countless movie and television scores in the mid- and later 20th century. The orchestra under David Rohrbaugh sounded rich, even lush, and responded smartly as he paced the singers onstage.
WERTHER, an Opera San José production, plays Nov. 23, 29 and Dec. 1 at 8pm and Nov. 25 and Dec. 2 at 3pm at the California Theatre, 345 S. First St., San Jose. Tickets are $66–$88. (408.437.44.50)
Send a letter to the editor about this story.