November 22-28, 2006
home | metro silicon valley index | columns | silicon alleys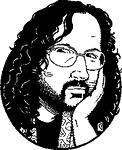 Silicon Alleys
The Expats, Part 1
By Gary Singh
A FEW WEEKS ago a column appeared in this space titled "Where Are We?" in which I opined about the soulless nature of San Jose and why I haven't left. I received several letters agreeing with what I said, a few of which were tirades longer than the column itself. So, as a result, I came to the conclusion that the next logical step in this endeavor would be to search out richly creative folks who did leave San Jose and who are never going to come back. Consider this the first in an irregular series of interludes with just such individuals.
The adventure begins with an avant-garde pianist named Thollem McDonas, who graduated from the music department at San Jose State. He now has seven CDs out, including six on Edgetone Records, and he's toured Europe several times. McDonas' music is an ever-changing aural stew that explores the intersections of jazz, neoclassical, world music, free improv, sonic rackets and just about everything else. Italian musician Massimo Ricci had this to say about McDonas' album Racing the Sun Chasing the Sun: "[It's] wonderfully complicated—you could well get seasick if trying to thoroughly follow those monstrous digital precognitions—yet it has that talkative contrapuntal hyperalimentation, typical of Thollem's most enthralling playing, which will force your body and soul to become a small part of it."
That pretty much describes his work, and I recently hooked up with McDonas in Prague, the ghoulish and mystical capital of the Czech Republic, where he was living. He was soon to be splitting for a gig in Ljubljana, Slovenia, before touring Italy, Greece and Sweden. I asked him about San Jose and he had this to say: "I was born as a white male in south San Jose, so therefore I have no culture. My culture is everyone else's culture. San Jose suburbs are just a blank canvas. There's no heritage whatsoever. The only culture that exists is by people who live in a vacuum, for better or worse."
We paraded in the cold rain down a cobblestone street known for its 58 pubs in less than a mile. We discussed McDonas' music while entering a corner pub called Luis Cyphre, named after Robert De Niro's character in Angel Heart. "I was a classically trained pianist and I got into everything from the Velvet Underground to PiL to Miles Davis and Coltrane," he said. "So that became my culture."
I asked what he thought of the Bay Area improvised music scene and McDonas declared that it's highly incestuous, with people only giving gigs to each other. "There's all these camps that have been at war with each other for 20 years," he said, "and some of the camps are just four people."
I added that they all hate San Jose. "Yeah," he said. "As soon as they see a 408 number on your CD, they just throw it the garbage can."
The next day, we were walking up a cobblestone hill after attending a soccer match between locals FK Viktoria Zizkov and their rivals the Bohemians. McDonas told me that his life and music is an eclectic infusion of infinite possibilities. "No one can ever feel completely comfortable with my music because I move so quickly from one subject to the other," he explained. He added that he doesn't mind being on tour for extended periods of time, constantly being put up in flats by concert organizers and not paying rent. He can live anywhere.
This is not to say that McDonas is prone to automatically bash San Jose. He says he has plenty of great memories here, but they've all disappeared into thin air.
After leaving the Alchemy Museum in a town called Kutná Hora, we discussed San Jose at a pub which serves "Alchemystical Cuisine." We had a dish called Edward Kelly's Enochian Compound.
"All the fields I used to play in as a kid are gone," he said. "They've all been paved over with concrete. All the bars I used to perform at are gone. I can play all over the world, but I can't play in my own hometown."
Contact Gary Singh or send a letter to the editor about this story.