November 22-28, 2006
home | metro silicon valley index | the arts | stage | review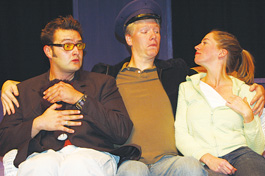 Tour guide: Jeff Clarke (center) keeps popping up in different guises while John Romano and Alexandra Matthew tour Europe.
Foreign Hop
A brother and sister seek a European cure in the Pear's 'Baltimore Waltz'
By Marianne Messina
SIT FRONT and center at Pear Avenue Theater's production of The Baltimore Waltz, and you'll find, at very close proximity, two toilet commodes staring you down. No need to get up and move; it's just a glimpse of the play's potty humor and part of Ron Gasparinetti's clever set for episodic scenes that follow Anna (Alexandra Matthew) and her brother, Carl (John Romano), on their trip through Europe. Equipped with wheels, the toilet seats quickly become seats on a German train or at a Paris cafe, with only a little help from the actors in the dark-of-scene changes.
It's best to read the notes ahead of time to learn that Paula Vogel wrote the play to commemorate her brother: "They both knew that he was HIV positive [in the '80s] and that they would probably never travel to Europe together as Carl had always wished." Knowing that, you see the role reversal as first-grade teacher Anna is diagnosed with "Acquired Toilet Disease," and you sense the powerful emotion hidden in intermittent language lessons. "Répétez en français: Where is my brother going?" and "Conjugating the verb verlassen, to leave, abandon."
These rote language lessons allow the play to remain irreverent and still trace the undercurrent of grief. A Latinate flurry of possible symptoms rattled off by the doctor (one of many mysterious Third Man-type characters played by Jeff Clarke), underscores Anna's main lessons about language: its failure to cope, its betrayal and, finally, its ability to exclude. As Carl puts it, Anna sees Europe "on her back" sightseeing "hotel room ceilings" in the company of national stereotypes, like the little Dutch boy (grown-up of course) and the French waiter, all played by Clarke.
Showing incredible range, Clarke plays the insensitive dream/fantasy doctor as well as the sensitive real doctor at the end of the play. Clarke's characters hit more often than they miss, depending on how much leeway you afford for the fantasy element. He is at his finest as the Viennese urologist in Coke-bottle glasses, wig of long, straggly silver hair attached to a bald crown and one black rubber-gloved hand that needs to be subdued by the other hand. While the Third Man is mostly sexual in Anna's world, he is dangerous in Carl's.
Romano gives a touching performance as Carl, who seems gentle and soft-tempered, even when he's giving the fist to his supervisor. As an encyclopedic, polyglot librarian clutching a stuffed rabbit, Romano maintains the sense that Carl is the vulnerable one even though Anna's the one with the diagnosis. The impact of such reversals kicks in when the siblings' dream tour comes to an end.
Yes, in Vogel's Wonderland there is a plot line around stuffed rabbits—espionage, trench coats, sunglasses—and it comes to a climax in a mimed exchange between two furry bunnies. Pear Avenue's production makes this moment shine. Odd and intriguing, this bunny coupling splits emotion down the middle, between danger and softness; sexual excitement and grief. After the tussle, Carl takes out his white hanky and wipes his rabbit's brow—how inspired. Besides the urine-drinking doctor, props come out of the hopper, and some of the humor is downright corny, but there's a lightness in this play—and this production, directed by Ray Renati—that makes room for all the layers to breathe.
The Baltimore Waltz, a Pear Avenue Theatre production, plays Wednesday-Saturday at 8pm and Sunday at 2pm through Dec. 3 at the Pear, 1220 Pear Ave., Unit K, Mountain View. Tickets are $10-$25. (650.254.1148)
Send a letter to the editor about this story.