November 22-28, 2006
home | metro silicon valley index | the arts | stage | review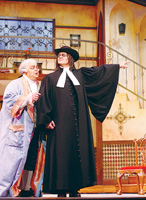 Photograph by Pat Kirk
On a droll: Scott Bearden (left) as Dr. Bartolo and Kirk Eichelberger as Don Basilio milk the laughs in 'The Barber of Seville.'
Razor Sharp
Opera San José's 'Barber of Seville' offers an object lesson in musical comedy
By Scott MacClelland
WHILE THE world's big opera houses cannot resist staging Rossini's comic masterpiece, The Barber of Seville, they almost always go into it at artistic risk and, as often as not, with distorted results. The Barber is, after all, a chamber opera, plainly in want of an intimate space like the California Theatre to work its witty charms. Opera San José's new production proves this yet again, and in the person of Scott Bearden as the cast's principal buffo character, Dr. Bartolo, an object lesson in musical comedy. How important is this? Since Opera San José's declared mission is to give talented professional singers stage experience, the current crop of "students" will not find a better teacher.
Bearden chews the scenery with his physicality, facial expressions and room-filling vocalism. As Saturday-night's comedic anchor, Bearden was nearly matched by Kirk Eichelberger, whose booming basso and droll characterization as Don Basilio commanded attention with every gesture. The performances by these two men set an irrepressible standard that threw every other principal character into vivid relief. For all his clever cavorting as the title character, Figaro, new company baritone Kenneth Mattice came up slight on vocal authority, a laughing factotum to be sure, but more beaujolais than chianti.
Happily, guest tenor Thomas Glenn produced an ideal Rossini coloratura that was clarion clear in the high tessitura and cut a persuasive Count Almaviva in all his various disguises. Company veteran Michele Detwiler may lack the most articulate coloratura but certainly took charge as Rosina, pulled as she is like a tightrope between the suspicious, overbearing Bartolo and the count.
Stage director Bodo Igesz deserves kudos for comedic action and as traffic cop. Sets and lighting by Matthew Antaky established a new high watermark for OSJ, his exterior of Dr. Bartolo's house surpassed only by his interior, work of high architectural sophistication and décor. As has now come to be expected, Bruce Olstad's chorus, even with relatively few moments to shine, distinguished itself.
In the Barber of Seville, Rossini surpasses his own well-known musical wit. He can't wait to make musical jokes at every turn, many of them laugh-out-loud, including an almost eager willingness to sacrifice the words to the music. That standard has been matched only by the collaborations of Gilbert and Sullivan, and exuberantly tweaks every composer—including most of the great ones—who gives primacy to the texts. In the closing moments of the piece, Rossini tenders an unexpected aria to Bartolo's maid, Berta, in this case a chance for Ariela Morgenstern to strut her vocal as well as comedic talents. It takes spontaneity and flexibility to keep such a frothy meringue from imploding, and conductor Michael Morgan, in his company debut, is the man for the job. He made that clear from the overture, detailing dynamics for added effect, keeping a keen eye and ear on the stage action and charging the performance with infectious propulsion all the way through. For its part, the orchestra sparkled, growled and sang like the principal actor it is.
The Barber of Seville, an Opera San José production, plays Nov. 24 and 30 and Dec. 2 at 8pm and Nov. 26 and Dec. 3 at 3pm at the California Theatre, 345 S. First St., San Jose. Tickets are $65-$85. (408.437.4450)
Send a letter to the editor about this story.