November 22-28, 2006
home | metro silicon valley index | movies | current reviews | film review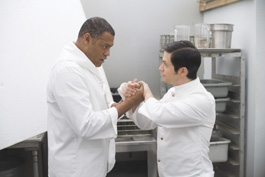 Sam Emerson/Courtesy the Weinstein Company
The working people: Laurence Fishburne and Freddy Rodriguez play the kitchen help at the hotel where RFK was assassinated.
'Bobby' Bland
June 1968, Los Angeles: a politician dies while a hotel full of lonely souls learns to connect
By Richard von Busack
EMILIO ESTEVEZ is no Vicki (Grand Hotel) Baum, but in 2006 do we need one? In Bobby, the arrival (and assassination) of Robert F. Kennedy brings together lovelorn souls staying at Los Angeles' Ambassador Hotel. Estevez managed to shoot at the old ruin before its demolition last February. Pat O'Neill's experimental film The Decay of Fiction got there first, placing double-exposure ghosts into the decaying halls. Compared to O'Neill's act of yearning, Bobby is a standard drama, even despite its namesake martyr.
Estevez uses Kennedy's spirit to hold his formless tag-team drama together. The director/writer casts himself as the long-suffering husband of a drunken big-band singer who is headlining at the hotel. (Demi Moore plays the singing harridan, far, far surpassing Macy Gray's worst-of-'06 performance in Shadowboxer.) In the kitchen—where there's no sign of the doubly named Sirhan—busboy José (Freddy Rodriguez) chafes at anti-Mexican discrimination. Wrapped in a silvery sharkskin suit, Christian Slater has a no-hope part as José's boss, given a load of grief by the chief of hospitality William H. Macy. Macy is married to beautician Sharon Stone, but he's shtupping switchboard operator Heather Graham. Upstairs, it's murky psychodrama time between Martin Sheen and a squandered Helen Hunt; she tries to smile bravely, though it's always been a tribute to her as an actress that she's not a smiler. See Hunt's monologue on the importance of shoes and watch the unhappy sight of an actor gasping for air like a landed fish.
Anthony Hopkins soldiers through as the retired doorman, still loitering in the hall. Speaking of Grand Hotel, and he does speak of it, let's not have Anthony Hopkins turn into Lionel Barrymore. More interesting is the regal chef, Laurence Fishburne. Eventually, even his measured performance goes flooey when he takes a pen, draws a Basquiat crown on a tile wall and tells José about Camelot. RFK appears in the movie only through news footage. Watching these sequences has all the dismal pleasure of palpitating scar tissue to see if it still has any feeling left. RFK tours Appalachia and America's ghettos; he's crowded at the podium after his California primary victory, next to a woman wearing a head scarf with the UFW eagle on it. To keep us in a teary mood, Bobby winds up with a voice-overed RFK speech on the cost of violence in America. It's a stately discourse, touched with the kind of feeling that could only come from someone whose brother had been murdered. RFK was apparently an early victim of Palestinian wrath against the U.S.'s support of Israel. But Sirhan Sirhan's attack is out of the frame of Estevez's would-be epic. A pity, because this rage is just as current as some of the other events Estevez mentions: the introduction of voting machines in 1968 and, of course, the unpopular war. Bobby leaves one baffled and depressed, but there's one consolation. Take a look at the soulfulness, gentleness and intelligence of Robert Kennedy, and one can come to only one conclusion. Even if he'd lived until the national elections, that rat-dog Nixon would have made a meal out of him.

Bobby (R; 111 min.), directed and written by Emilio Estevez, photographed by Michael Barrett and starring Laurence Fishburne, Anthony Hopkins and Helen Hunt, opens Nov. 23.
Send a letter to the editor about this story.