November 22-28, 2006
home | metro silicon valley index | silicon valley restaurants | review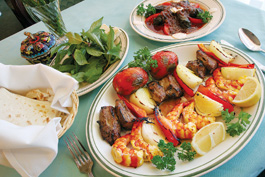 Photograph by Felipe Buitrago
Licensed to grill: Kebab is the best-known Persian specialty, but Negeen has a lot more to offer.
Campbell's Jewel
Negeen is Persian cuisine at its best
By Stett Holbrook
SOME Silicon Valley Middle Eastern restaurants will sprinkle in a few Persian dishes on their menus, but those that specialize in the cuisine are few. That's too bad. Persian food combines the complex, aromatic, stewlike dishes of northern India and the hearty grilled kebabs of the Middle East. The food is also characterized by the use of fluffy basmati rice and nuts and fruit like pistachios, almonds, pomegranate and cherries that give the cuisine a richness and delicacy all its own.
Unlike Los Angeles, which has a large Iranian population and lots of restaurants, Silicon Valley's Iranian community is smaller, and so are the dining options. That what makes Campbell's Negeen restaurant such a gem. Like all of the valley's best ethnic restaurants, Negeen (which means diamond in Persian) occupies a drab strip mall. Inside, the boxy restaurant looks like a country club banquet room from the 1980s with its gold chandeliers, mint green tablecloths, mirrored wall and heavily upholstered chairs. In one corner a disco ball hangs over a small dance floor and stage for traditional Persian music performances on weekend nights.
The room feels a little stodgy, but the food more than makes up for that. Meals start with a complimentary basket of lavash bread and a plate of mint and basil leaves, feta cheese and half a raw onion. The idea is to roll up the bread with a few bits of onion, herbs and cheese.
Negeen's list of appetizers offers some of the most delicious eating on the menu. My two favorites are mira ghasemi ($6.95) and kashk-e-bademjan ($5.95). The first starter combines grilled and puréed eggplant in a tomato sauce with scrambled eggs. The terra-cotta-colored spread is wonderfully smoky and subtly garlicky. It's great scooped up with the lavash. Kashk-e-bademjan is another puréed eggplant dish that's topped with mint and a creamy yogurt sauce. Also try the excellent kookoo sabzi ($6.95), a frittatalike dish with a great name that combines deep green spinach and herbs with walnuts and eggs into a crisp-on-the-outside, moist-inside vegetable cake.
And definitely get an order of torshi ($3.95). The powerfully pickled mixture of vegetables and spices is used like chutney or salsa; spoon it onto other dishes for accent and contrasting flavors.
As easy as it is to do, don't fill up on appetizers. Negeen's portions are huge. Plan on taking food home or order less—an appetizer and entree is probably too much for most mortals to finish in one sitting. Entrees are piled so high with rice that a plate's worth would cushion a fall from a five-story building.
Negeen offers an alternating selection of specials. On my Wednesday visits, it was ghormeh sabzi ($9.95), a classic Persian stew made with bits of tender beef, kidney beans and fresh, grassy herbs. It's not much to look at—a plate of green mush—but the mildly sour, salty and hearty flavors make this a winner. The stew is served with a great dune of incredibly light and fluffy rice.
Jewelry polo with boiled chicken ($13.95) is a particularly distinct rice and chicken dish. The chicken itself is quite good, juicy moist legs coated in a light tomato sauce. But it's the trio of rice toppings—plump sour cherries, rubylike dried barberries and a spicy sweet blend of pistachios, almonds, orange peel and saffron—that make this dish special.
The soul of Persian cooking is the kebab, and Negeen's many options, made with beef, chicken or lamb and served with basmati rice, lavash bread and a grilled tomato, are great. If you're a beef eater, the koobideh kebab ($9.95) should be your first stop. The seasoned ground beef, formed into a long patty, blistered over charcoal and yet bursting with beefy, oniony juice, is as tender and flavorful as any kebab I've had.
The lamb and chicken kebab ($25.95) combo is good, too. The orange-tinted chicken looks like it's been cooked in a tandoori oven and has the same smoky, tangy flavor. It's great. The lamb is wonderfully mild and just as tender as the chicken.
Desserts at Negeen are outstanding. The Persian ice cream (bastani, $3.50) is reason enough to visit. Made in-house with pistachios, saffron, chunks of heavy cream and deeply sweet and fragrant rose water, it's excellent. Make sure it's served plenty cold. On a follow-up visit it was soft and runny—still delicious, but it's much better frozen. Also good is the zoolbia and bamieh combo ($3). Bamieh look like little donut holes that have been soaked in a rosewater syrup. Zoolbia looks and tastes like fried honey that's been drawn into lacy circles.
A glass of cardamom-flavored Persian tea ($1.50) is the perfect foil for the bracing sweetness of the pastries. But sip your tea slowly. You'll need it for company. On both my visits service was friendly but glacially slow. But that's OK. The quality and quantity of the food here puts you in a forgiving mood.
---
Negeen
Address: 801 W. Hamilton Ave., Campbell.
Phone: 408.866.6400.
Hours: 11:30am-10pm Mon-Thu, 11:30am-midnight Fri-Sat and 11:30am-9pm Sun.
Cuisine: Persian
Price Range: $9.95-$25.95.
Send a letter to the editor about this story.