November 22-28, 2006
home | metro silicon valley index | the arts | stage | review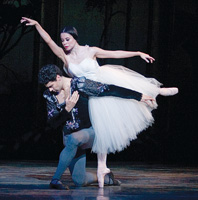 Photograph by Robert Shomler
Stayin' alive: Giselle (Karen Gabay) dances so that Albrecht (Inaki Urlezaga) may live.
Ghost Story
Karen Gabay's Giselle gives a haunting performance for Ballet San Jose
By Marianne Messina
TIS THE SEASON for juxtaposing life, fecundity and romance with death, ghosts and loss. Or so it feels, coming from Thornton Wilder's Our House (Palo Alto Players at Lucie Stern) to Ballet San Jose's fine performance of Giselle. All the elements, from plot and choreography to lights, sets and costumes, divide the two acts into two distinct moods. The first act, where autumn's burnt oranges and browns suggest earthy harvest and plenty, features the romance between young Giselle (Karen Gabay at this performance, alternating with Maria Jacobs) and peasantly disguised nobleman Loys/Albrecht (guest dancer Inaki Urlezaga).
Between two Romantic peasant cottages, the peasants gather and dance, the nobles pass through to receive tea (served by Giselle) and command a peasant performance—a bright pas de deux nimbly danced by Le Mai Linh and Mirai Noda. And Giselle dances her love for Albrecht, much to her admirer's dismay (Hilarion, danced by Maximo Califano this night, but alternating with Daniel Gwatkin). Gabay's movement ranges from feathery light to fluid, and she applies that exceptional ability to infuse her roles with childhood to Giselle, as the girl expresses her love for dance.
As in Our Town, where the "everyday life" of the first two acts turns into a graveyard full of sullen ghosts, Giselle's peasant town during vintage celebration becomes, upon her death, a graveyard where the Wilis (ghosts of affianced young dancers) range. But unlike the stationary ghosts of Our Town, the Wilis move—and beautifully: Queen Myrtha's (Haley Henderson) frosty bourrées from one side of the stage to another; the slogging, one-foot chug that carries the Wilis' ensemble across the stage like lithe creatures caught in an oil slick.
Throughout this "white act" (referring to costumes), beings cross the stage briefly like memory traces across the mind. When Giselle echoes the Queen's cross-stage bourrées, Gabay creates a "little ghost lost" impression, and the image has an afterburn. Enhanced by deathly makeup and white gown, Gabay 's performance in the white act is especially haunting. Giselle protects her true love, Albrecht, from the same fate that Hilarion has just suffered under the hands of the Wilis (being forced to dance to death) by dancing protectively with him until the clock chimes. In a recent interview, Gabay said that her performances vary, "depending how my character is feeling that particular performance." And in this scene, the change in her love, from the adoring young live Giselle, is almost painful to watch; somehow Gabay conveys that she is there and not there at the same time, as if she's only a vehicle for love that she cannot feel.
Wearing a stunning diamond-studded black chemise, Urlezaga (an international guest star with an insert page worth of credits) dances a brilliant (though unworthy) Albrecht. For the men, especially Urlezaga in his second-act solo, and Lihn in the first-act Pas de Deux, Giselle is a showcase of leaping legwork, and both dancers handle such airborne toe twittering as the grand cabriole impressively. Most dramatic moment goes to Maximo Califano (unrequited lover Hilarion) leaping and collapsing all at once as the Wilis "force" him to dance (and at half his size, these Wilis did not always look convincing—luckily their force is magical). In fact, thanks to Wili magic, Urlezaga and Califano both execute some beautiful inventions as they perform exhaustion, folding their collapses into leaps or spins to create dramatic aberrations of the classic forms. Far from Our Town, death is not such a barren and droning place in Giselle. This production shows it a beautifully haunting realm, unfamiliar and cold, possibly in contact with something a little deformed, yet full of powerful forces; while inhuman, it's able to interact with the living, like something just off in our periphery.
Send a letter to the editor about this story.