November 22-28, 2006
home | metro silicon valley index | the arts | stage | review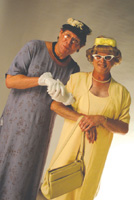 Photograph by Dave Lepori
Multitasking: Kevin Blackton (left) and Tim Hendrixson do it all 'Greater Tuna.'
Lone Star Stars
Kevin Blackton and Tim Hendrixson drag the gags in San Jose Stage's 'Greater Tuna'
By Marianne Messina
IT IS a wonder that Greater Tuna, now playing at San Jose Stage Company, was the most-produced play in the country in 1985. Partly, the thing is just plain funny from the minute the down-home radio co-hosts Arles (Tim Hendrixson) and Thurston (Kevin Blackton) announce the winners of an essay contest: "Human Rights: Why Bother?" and "The Other Side of Bigotry." But this production doesn't take a good script for granted. Hendrixson and Blackton (both playing numerous roles) and director Randall King get a lot of credit for phenomenal timing and for capturing the Southern speak of all manner of oddball town folk in Tuna, Texas (an outline on the floor shows Tuna as a star on a vague map of Texas resembling a fish).
As radio announcers, Hendrixson and Blackton strike the perfect note of conviviality without chirpiness, and they embody the folks' absurdities without nudges, winks or blank pauses for laughs. In the world of Tuna, people have known each other all their lives and therefore have no boundaries between public and private life. Chain-smoking, gun-shop-owning Didi Snavely (Hendrixson in a rain coat, pumps and black wig) can rant on the call-in talk show and do a commercial spot on the Arles and Thurston show—"Does the high cost of security drive you blue?"
While the play does take us into the homes of individual characters, the radio show gives their lives texture in a found-art kind of way: announcements (church-group projects, auditions and the like), town news, the weather and a call-in sound-off show. We see the town from a variety of angles. Yet the insularity of Tuna comes through loud and clear when entire world news reports read like cut off telegrams of disaster: "Peace talks fail; war is imminent."
Kevin Blackton has found a new calling in drag, and that's even without disguising his rumbly baritone all that much. You don't want to miss the slightest hand flick of his graying flip-haired Bertha Bumiller, as she pads from stove top (pantomimed) to table (real) in her soft slippers (sensational job with the costumes by Eileen Barnes). Then as the hefty, cane-toting Pearl Burras—a dog poisoner who doesn't feel right going to bed without knowing there's strychnine in the house—Blackton was again irresistible. Hendrixson takes a turn at drag as Vera Carp, the prim, tight-lipped church organizer who, like Pearl, is brilliantly accessorized with hat, jewelry and shoes to match.
While everyone's laughing, the play's ominous undertones are keeping the beat: "If Didi's can't kill it," goes the gun-shop commercial, "it's immortal." And they surface when the delinquent Stanley Bumiller (Hendrixson with ratty blond hair sticking out of his sports cap) talks to the body (now in a casket) of the judge who sent him to reform school. The silence that came across that night's audience, and the murmurs that followed the scene, gave a sense of comedy betrayed. The moment unites us with anyone who's ever asked, "How could this happen?" after trouble erupts.
And then the show turns funny again. Stanley is stopped by a uniformed policeman (dark sunglasses and cowboy hat), and Blackton puts just enough hip-dragging swagger in his officer's demeanor to tickle us silly. The hushed tragedy of Tuna breaks through one more time when the Humane Society's Petey Fisk (Hendrixson) debates putting down an unwanted pet, and he prays to the God who created it all, "We sure could use some help taking care of it." Basically the Greater Tuna forecast is successive gusts of comedy sprinkled with occasional conscience; bring tissues for laughter and expect to find yourself laughing at the most wicked things.
Greater Tuna, a San Jose Stage Company production, plays Wednesday-Thursday at 7:30pm and Friday-Saturday at 8pm and Sunday at 2pm through Dec. 10 at the Stage, 490 S. First St., San Jose. Tickets are $20-$45. (408.283.7142)
Send a letter to the editor about this story.