November 22-28, 2006
home | metro silicon valley index | music & nightlife | preview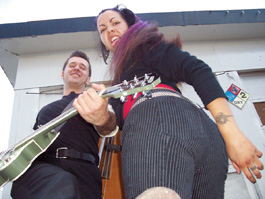 Bleeding Heart 61 Productions
Dynamic Dou: Lone Wolf and Nana supercharge rockabilly sounds for Sik Luv.
Roots at The Speed Of Punk
Sik Luv's Lone Wolf McCool and Nana accelerate the sound of rockabilly for San Jose dive-bar lovers
By Ryan Osterbeck
THE NIGHT BEFORE Thanksgiving is a holiday in and of itself—well, at least in the bar industry. Think about it; all one has to do the next day is relish a truly American holiday, and the night before deserves the same gluttonous treatment. So tonight get down to our basest elements with straight Bay Area rockabilly rebels Sik Luv at one of the best dive bars around, the Caravan.
Now, you've probably read a snippet or two that I've written about Sik Luv, some little blurb here or there in the paper, something not really worthy of one of the hardest-working rockabilly outfits in the scene. And you've probably seen something about the Caravan, something about the liberating libations or the out-of-your-skull good clean fun, but until now these two philosophically inextricable entities, at least for me, have, unfortunately, been mutually exclusive.
Tonight, they're crashing together like high-volume oldies squawking out of a modern tin box at the joint where I so often find myself at home.
"I believe that everyone loves the oldies whether they'll admit it or not. Both the beat and walking bass lines are ingrained in our culture," explains Lone Wolf McCool, the Gretsch hollow-body guitar slinger of Sik Luv. "It's American roots music, and I think everyone has a soft spot for that."
Nana, the crazy intense Bay Area punk who slaps the big pink upright bass, goes a step further: "Old-school rockabilly makes you want to dance around the room all crazy like. It's gnarly, raw and badass—just like us!"
And what separates Sik Luv from other straight rockabilly outfits is their ability to rip out that Americana roots-rock with the characteristic speed of punk.
"What we play is similar [oldie roots-rock], but different. It's faster, yet still catchy, and lyrically not so 'sweet 16 innocent,'" explains Lone Wolf.
While speaking of Sik Luv's present-crashing-with-the-past style, Nana, in nearly the same manner in which she approaches the bass, adds, "I'm not talking about these Hee-Haw-sounding motherfuckers with matching costumes. I'm talking about early rock & roll, man!"
Which is the whole and truthful attitude that these two sport on- and off-stage, not reinventing the wheel per se, but dropping a souped-up engine on the lumbering chassis of rock, topping it off with high-octane fuel and peeling out.
Subject matter for Sik Luv—I guess much like the rest of us in anything—is lifted from their own lives and not some relational fabrication with psychotics or the devil. "You're basically listening to a biography," says Lone Wolf. "It usually comes from personal experience. For example, I told my girlfriend once that her ass was the glue that held us both together. Right then and there, I wrote a song called 'Your Ass Is the Glue That Holds Us Both Together.'"
"Relationships are screwy," explains Nana, "especially the ones I've had. In one song we're calling each other names, and at the end we confess we still just can't live without each other. That's real life right there! We rejoice in our codependence."
Picking up the thread, Lone Wolf jumps in and remembers how he hooked up with Nana: "We met on MySpace; I tried her out and we had excellent chemistry. I couldn't ask for a more perfect band mate." So right there is proof that MySpace actually does have useful properties in modern culture.
Sik Luv—with rotating drummers, Mutilator Don and Jen Amputee, who take turns on the kit—would relish in taking their retro-rockabilly worldwide, ripping up stages with such big names in the scene as the Reverend Horton Heat, and hit larger venues or, according to Nana, Chuck Berry's living room, but for the moment are completely satisfied with showing the audience a good time.
Luckily for lovers of slicked-back rockabilly, blazing guitar riffs and the rat-a-tat-tat of a pounding upright bass, Nana and Lone Wolf aren't quitting their day jobs and hitting the touring circuit just yet. Instead, Sik Luv's polishing its sound, working on new songs and reserving the nights for blowing the roof off a dive bar near you.
Sik Luv and The Dead End Darlings play Wednesday (Nov. 22) at the Caravan, 98 S. Almaden Ave., San Jose. Sik Luv will also perform with The Creepshow on Thursday (Nov. 23) at Toon's, 52 E. Santa Clara St., San Jose.
Send a letter to the editor about this story.