November 22-28, 2006
home | metro silicon valley index | music & nightlife | preview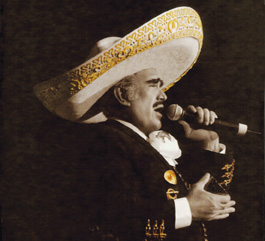 The triumph of the Vaquero: Vicente Fernández isn't lying when he calls his album 'The Living Legend.'
El Rey
Vicente Fernández cements his ranchera rep with box set and new album
By Chuy Varela
'ARRIBA, SAN JOSE," shouted Mexican ranchera singer Vicente Fernández a couple of years ago at an HP Pavilion concert. Reacting to a pulsating two-step polka beat, the largely immigrant crowd roared with approval. Wearing a white oval-shaped charro hat (with intricate embroidery) and a black mariachi suit holstered with a silver pistol, he quickly jumped into a medley of his greatest hits and sent the place into a spin.
Fernández, who is often dubbed "El Rey de las Rancheras" (the king of the country folk ballads), hails from Huentitlán del Alto, Jalisco, Mexico. At 66 years of age, he still fills stadiums to the rafters despite the fact that it has been more than three years since his last new album. Yet wherever he goes he is showered with the adulation of a superstar.
Despite the fact that his biggest hit, "Volver, Volver," has been covered and crossed over by rock bands like Los Lobos and the Texas Tornadoes, "Chente," as he is called by his fans, is largely unknown to the American public. This year, the release of the three-CD retrospective box set The Living Legend, on Sony-BMG's Norte Records with English-Spanish bilingual notes, was the first attempt to introduce him to the U.S. market.
Fernández has been ignored by the major music awards, like the Grammys, but all that could possibly change as he releases a brand-new album this week titled La Tragedia del Vaquero (The Tragedy of a Cowboy). The title track, one of 14 selections on the new album, is a sad lament about a jealous cowboy who in the end kills two of his dearest family members.
Signing with CBS Records in 1965, Vicente brought a pop-balladeer sheen to the traditional mariachi. Classic films such as La Ley del Monte (Law of the Mountain) fueled his career. On the heels of his 1974 megahit "Volver, Volver," he hit the road, setting attendance records on tour in Mexico and the United States.
The gutsy llanto (cry) of his voice defined him, but its emotional hook was something he discovered sadly at the popular Teatro Blanquita in Mexico City, where he made his debut. Just as he was about to go on, he was told of his father's death. He took the stage anyway, but couldn't hold back the tears as he strolled through the tables singing "Los Laureles" (The Laurels).
Vicente's career got a big boost from Mexican TV host-impresario Raul Velasco, who put him on various television programs and helped him gain wide exposure. On record, his longtime association with arranger-producer Pedro Ramos created a "Chente" sound in reverberating stereo that echoed over Mexican AM radio, gaining him more and more fans.
This Friday, Fernández rolls into the HP Pavilion with Paquita La Del Barrio, the queen of the love-gone-sour ranchera. With a 32-member orchestra in tow that includes a mega-mariachi with 12 violins, Vincente will give fans a chance to find out what La Tragedia del Vaquero is all about.
Vicente Fernández and Paquita La Del Barrio perform Friday (Nov. 24) at 8pm at the HP Pavilion, 525 W. Santa Clara St., San Jose. Tickets are $45.50-$150.50. (www.ticketmaster.com)
Send a letter to the editor about this story.