11.25.09
home | metro silicon valley index | columns | silicon alleys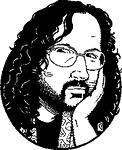 Silicon Alleys
Back-Alley Giving
By Gary Singh
THIS WEEK, Metro once again provides the definitive gift guide for the South Bay. Apropos of the situation, allow me to humbly present in this space a few back-alley ideas for those whose extra dollars can be used toward gifts for some local causes.
For just $50, try bestowing on someone a gift membership to the Foundation for Mind Being Research (www.fmbr.org). Located in Los Altos, FMBR was established in 1980 to assist in establishing the field of consciousness studies as a bona-fide science. FMBR members include folks from a wide variety of disciplines—psychologists, computer engineers, mediums, artists, philosophers, mystics and MDs—anybody "whose view of reality, knowledge, or method provides exemplars and models for new frontiers in their disciplines." The group hosts lectures on a variety of subjects, including Chinese medicine, quantum physics, weather modification, Russian biosensory psychology and the yoga of time travel. With a membership, you'll also get a discount rate for their psychokinesis parties.
Furthermore, if you know of anyone in need of new types of transformation, consider a gift donation in their name to the Radical Change Group (www.radicalchangegroup.com). Active only a few years, the group strives to bring about transformation not just in what or who is being transformed but also in how transformational technology is delivered. They would like to see the day when all previously expensive personal-growth trainings would be free for everyone. Their website offers a slew of interviews and podcasts with radical thinkers. The site poses the question: "What if ... transformational teachings were shared as gifts, rather than traded for money?"
And then there's the Accelerating Change Foundation (www.accelerating.org) in Mountain View, another nonprofit group in need of your gift donation. All change in the world—technological, ecological, planetary or political—seems to be rapidly accelerating, and this group of visionary thinkers needs your support. Give a gift in someone's name. Look at it this way: Imagine if you had the technological foresight to anticipate the next revolution—that is, the next equivalent of the internal-combustion engine or the assembly line. What would you do with that knowledge and how would you apply it to make the world a better place? The Accelerating Change Foundation is helping you to acquire that kind of foresight.
On the darker side of things, Silicon Valley is a diverse place, so if you know any scientists, engineers, managers, operators, educators or military personnel involved in the sciences of information or electronic warfare, why not donate a membership to the Golden Gate Chapter of the Old Crows (www.myaoc.org)? This is the local Silicon Valley chapter of the world's leading organization of professionals engaged in the aforementioned activities. Many of the members are retired military folks or are somehow involved with the Defense Department, so some of their exploits are undisclosed and hush-hush, but they are definitely involved with InfoWarCon 2010, which is in Washington, D.C. What better holiday present than a gift membership?
For more "on-the-record" pursuits, at the Hacker Dojo (hackerdojo.pbworks.com) in Mountain View, anyone can become a member for $100 a month to support the organization in its early stages. All sorts of collaborative endeavors go down at the place, whether you need to make circuits for hobby projects or build your next robot. Planned classes include lock picking and iPhone programming. This organization will only grow and grow, so it's a worthy cause for tinkerer types.
Finally, when people need to escape their hectic pressure-cooker lives in Silicon Valley, there's always our most famous au naturel escape, the Lupin Lodge (www.lupin.com). Since 1936, people from all across the social spectrum have visited Lupin for the benefits of social nudism. There's even a student rate of $30 a month. If your SJSU pals constantly complain that they can't get all their required classes, give them a gift certificate for the Lupin Lodge so they can escape the stressful madness of budget cuts. That's the holiday spirit!
Contact Gary Singh or send a letter to the editor about this story.