11.25.09
home | metro silicon valley index | silicon valley restaurants | preview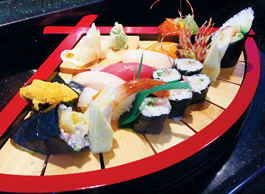 Photograph by Felipe Buitrago
BOUNTIFUL PLATE: The sushi omakase covers a lot of culinary ground at Bluefin.
Sushi and Beyond
Bluefin offers a steady but unadventurous menu of sushi and Japanese standards
By Stett Holbrook
SAN JOSE'S Bluefin restaurant inherited a great-looking space from the former occupant, Seven Restaurant and Lounge. The dining room has a sleek, modern feel. There's a gleaming open kitchen and a cool hideout of a bar. It's got an urban edge that makes it one of Silicon Valley's most striking restaurants.
So it's too bad that the new Japanese restaurant missed the opportunity to deliver food to match its urbane setting and big-city prices. Bluefin is located on a slowly energizing stretch of The Alameda a short walk from the HP Pavilion and could capitalize on that location. But in spite of its good looks, Bluefin is just another Japanese restaurant with nothing to distinguish it from dozens of others that pretty much serve the same thing, lots of burrito-size maki, a standard lineup of sushi, a few salads, noodle soups, tempura, teriyaki chicken, grilled short ribs, roasted fish and miso soup.
I did have a few memorable dishes. The beef-filled gyoza ($8) are delicious. We ordered two plates of juicy fried dumplings back-to-back. The second one arrived less crisp than the first. Crisp is better. I also liked the sukiyaki made with Kobe-style American beef ($26). Rare slices of the buttery beef shared the bowl with fat slices of porcini and enoki mushrooms, onions, Chinese cabbage, tofu wedges and sweet-potato-flour noodles in a dark, savory-sweet broth. Perfect winter food.
I also liked the sake clam starter ($12), a bowl of clams in the shell simmered in a butter and miso broth. I would order the ahi poketini ($14) again, too. The tuna is lightly marinated in ginger and soy sauce and served atop a mixed salad of seaweed and mixed greens. It's a clean, refreshing yet filling salad.
But over the course of three visits, nothing else stood out. The triple crab appetizer ($15), fried soft-shell crab stuffed with king and red crab, sounded interesting, but all that crab didn't add up to much. The sushi selection offers nothing you can't get elsewhere.
The seared tuna tataki ($16) is billed as the chef's specialty, and I expected something, well, special. It's a generous portion of rare tuna served on a bed of daikon radish and mixed greens with an overly tart ponzu sauce. Good, but not really special.
The pan-seared chicken teriyaki and tempura dinner ($20) combines a satisfactory piece of skinless chicken thigh with teriyaki sauce dribbled on top and lightly battered tempura vegetables. For $26, I anticipated more from the short ribs. They were tender and marinated in a sweet soy glaze, but that's it. At that price, I needed vegetables or something other than just thin slices of meat on a plate.
Desserts don't break any new ground—green-tea ice cream, mochi ice cream, tempura ice cream, Thai fried banana. I choose the fried banana ($10). Covered in chocolate sauce and whipped cream, it was as uninspired and very sweet. The waitress asked what I thought, and I told her I didn't like it.
"Oh, well," she said, "what are you gonna do?" I don't know. Make a better dessert?
And then there's the restaurant's name. Bluefin. Because of the world's lust for the meaty, buttery richness of bluefin tuna, decades of overfishing have driven the western North Atlantic bluefin tuna population down by 97 percent. Only 3 three percent of these car-size animals are left. Other populations elsewhere are in trouble, too. Incredibly, the fish isn't yet classified as an endangered species, but hopefully that day comes before it's too late. A fat slice of toro is delicious, but the thought of bluefin tuna disappearing just isn't appetizing.
To be fair, it's hard to find a Japanese restaurant that doesn't serve bluefin tuna, so Bluefin isn't unique. Indeed, most sushi menus read like the "Do not eat" lists published by sustainable-seafood organizations like Monterey Bay Aquarium's Seafood Watch Program. Bluefin also serves Chilean sea bass, another fish that faces disappearance because of overfishing. Why serve it?
Here's my suggestion for Bluefin. Keep the name, but rather than hastening the extinction of one of the ocean's great creatures by putting it and other imperiled fish on the menu, the name could be used as one of reverence by serving a menu of sustainably sourced seafood.
That would make the restaurant unique, because no other Japanese restaurant in Silicon Valley sources its fish from healthy fisheries. (Currently, there's only one sustainable sushi restaurant in the Bay Area, San Francisco's Tataki). With so many Japanese restaurants serving the same thing, that would truly make Bluefin stand out.
The attention that such a business decision would attract would bring more customers to the restaurant and expand its base from the neighborhood and people attending shows at the HP. Everybody would win—diners, Bluefin and fish.
---
Bluefin
Address: 754 The Alameda, San Jose.
Phone: 408.931.6875.
Hours: 11am–2:30pm Mon–Fri and 5–10pm Sat–Sun.
Cuisine: Japanese.
Price Range: Most items $8–$26.
Web: Bluefinsj.com.
Send a letter to the editor about this story.