11.25.09
home | metro silicon valley index | movies | current reviews | review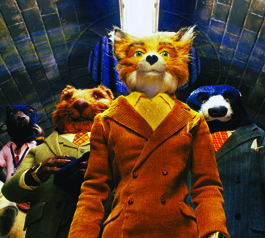 FOREST GUMPTION: Mr. Fox leads his pack on a mission of revenge.
The Magnificent Anderson
Wes Anderson's animated 'Fantastic Mr. Fox' shows us where the wild things really are
By Richard von Busack
ORSON WELLES had a famous comment about how the studio at RKO was "the biggest electric-train set a boy ever had." Looking back at Wes Anderson's career, it seems as if this cult director took the metaphor literally. The Darjeeling Limited was clearly an electric-train-set movie. And the toylike submarine in The Life Aquatic With Steve Zissou earned Anderson the derisive nickname "Capt. Neato."
A real artist learns to turn his limitations into strengths. In switching gears entirely from live action to stop-action animation for Fantastic Mr. Fox, Anderson has created his most consistently enjoyable film. Yet he hasn't stinted his appeal to the inner-child-nurturing hipster, the disillusioned adult who feels that life since childhood has been nothing but one trail of broken promises. Fantastic Mr. Fox succeeds in ways that the rival funny-animals-for-aging-kids film Where the Wild Things Are failed. Anderson has softened his typical aura of disappointment with a sense of rejuvenating play.
What has sunk Anderson before—the lack of a common touch, the crucifying self-consciousness, the focus on art direction over the content—is conquered here by the desire to tell a popular story. Based on a Roald Dahl children's book, Fantastic Mr. Fox is a fairy tale, but it's a realistic, slightly bleak one. Fox (voiced by George Clooney) settled down after fathering his first cub, Ash, and is now living a straight life with his wife (Meryl Streep). Mrs. Fox appreciates calm, but there's something chaotic inside her. The two of them narrowly escaped a farmer's trap once, and since then they've been living in an underground den.
A midlife crisis rouses the beast: "How can a fox be happy without a chicken in his teeth?" Mr. Fox asks. He decides to turn hunter once again. Retaliation comes fast and hard: the Fox is robbed of his tail by a shotgun blast. In the war that follows, Fox and his family—and, soon, all the creatures in the woods—become refugees. It's then that Mr. Fox figures a way toward survival—and triumph of a sort.
Anderson supervises British animators who downplay reactions and eschew deadpan. Fantastic Mr. Fox is fairly literal. The farmers aren't comedy bumpkins; their ringleader, Bean (Michael Gambon), shows us the hard, raw face of an IRA hit man.
Fox is a natural leader, a dashing predator in a dapper suit, walking on his toes. But at home, he wears the short sleeves and tie of the middle manager just barely holding onto his job. Fox's fantasticness is itself a kind of delusion; he's a legend in his mind, emitting that 1960s swinger's wolf (or fox) whistle. There's an air of middle-aged panic in this critter. And there's strife, too. When Fox confesses his nocturnal activities to his wife, Mrs. Fox claws him good.
So Fox is a typical Wes Anderson elder, longing to make a run for it. As both wild animal and uneasy father, he is unable to intervene in the rivalry between awkward Ash (Jason Schwartzman) and his too-perfect cousin Kristofferson (Eric Chase Anderson). Ash is a reject who plays with a literal model-train set; it would have been typical Anderson to make Ash the center of the film. Yet Fantastic Mr. Fox benefits from a really proactive hero for once. Clooney is a fox in full: we see both the humorous suavity and the realization of possible failure. Clooney is our Cary Grant, but what people forget about the original Grant is something that this superbly compelling Clooney remembers: the buried fears that a suave man harbors of being out of control.
Take Grant's Roger O. Thornhill in North by Northwest—flashing his monogram to a lady, he says, "ROT is my trademark." It's noble rot, but it's definitely rot. There's simmering energy in Clooney, who knows how to talk up heroism and how to downplay it at the same time.
Does it all work? The previews for the film make it look like a movie that's trying for huge laughs—and that isn't Anderson's intention. The final chase on motorcycle, where the film gets closest to a new version of The Wind in the Willows, doesn't have much thrill or momentum.
Fantastic Mr. Fox is funniest and most intelligent when it goes for the smaller-scale effect. It delights us, from the beginning to the last moments, where the fox makes a virtue out of his nigh-fatal capacity to outsmart himself. And that's a foxy trait Wes Anderson has at last transcended.

FANTASTIC MR. FOX (PG; 87 min.), directed by Wes Anderson, written by Anderson and Noah Baumbach, based on the book by Roald Dahl, photographed by Tristan Oliver and with the voices of George Clooney and Meryl Streep, opens Nov. 25.
Send a letter to the editor about this story.