11.25.09
home | metro silicon valley index | music & nightlife | band review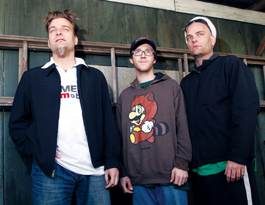 BRASH IMPULSES: NME just can't help riling people up with their songs.
Evil Twins
Local punks NME don't mind getting audiences riled up with controversial songs like 'Bin Laden Airlines'
By Beau Dowling
NME's Mike and Peter Skilj aren't afraid to take on anyone and everyone, including each other. The San Jose punk band has been around since the mid-'90s, with members coming and going, but the heart of the group has always been the Skilj twins. With a new album out and another almost finished, NME have made a name for themselves as brash, intelligent, uncompromising and a lot of fun to see live.
The duo is full-blooded Croatian. They speak it fluently and visit family in their native country.
"We have family there and a house on 500 acres of land on a mountainside," Peter says. "Our family has owned that property for 450 years. Back then, it was dominated by the Ottoman Empire and the Turkish. If an American went in there and cultivated that land, they would make a huge amount of money."
According to Peter, the Bosnians are almost like cousins to the Croatians.
"They speak the same language, but they're Muslim. Our bloodline probably is Persian or Polish. Because of that, we've had an Islamic influence in our lives."
For Mike, spirituality ties directly into writing music, even if it sometimes comes with consequences.
"If NME is an extension of yourself, then it always comes back to how you deal with things, who are you are, how you interpret it and then relating that to the world. In turn, everybody is going to be pissy with you. It's not as if we want to create enemies, and we don't seek out to piss anyone off deliberately."
But with songs like "Bin Laden Airlines" and "Bombs Not Food," Peters know most people will jump to conclusions.
"Lyrically and musically, we never had a serious tone to the music until now," Peter says. "'Bin Laden Airlines' is a mixture of both. Like another song, 'Bombs Not Food.' If you actually listen to the lyrics, we're not making fun of Food Not Bombs."
Ever courting controversy, Peter is likely to speak at length about how Barack Obama is related to Dick Cheney.
"It's far removed, but they're all part of the same bloodline," he says. "If you have all the power in the world and are part of a consolidated bunch, why would you seek to give that up? More is not good enough. They are always thinking of power. They're competitive and they'll cut your throat and drink your blood."
The religious influences in their lives prompted Mike to study Islam, which he has been doing for the past 10 years. "The essence of Islam is there's a certain train of thought within monotheistic religions," Mike says. "For me, Islam had the clearest version of that. It also has a holistic approach to things, which I think most religions lack. Even most Eastern religions, which is ironic because you would think they would have that. Initially, I never broke strides with it and I never had to overcompensate or act out of normal patterns. Islam is conceptual to me, and at the same time, probably the most misunderstood religion in the West."
Peter's outlook couldn't be more different.
"Religion is brainwashing," he says. "I don't believe in it. I believe in God and a universal principle; there has to be something that connects everything. But, I don't think taking sides is appropriate behavior."
One thing the brothers agree on is that everyone has a different interpretation of what exactly punk is. The issue of selling out comes up all the time.
"Selling out is not about making money or selling tickets, "Mike says. "It has nothing to do with materialistic things. It's about you doing what you don't think is right. It's the ultimate wrong, because everything crumbles at that point. If you're not yourself, who are you, then? You're a poser. Just accept you're a poser. Why is this poser punk rock? Because he has guy-liner on. Or their hair; like they're trying to cover a bald spot or something."
All in all, it's about being true to yourself and everyone around you.
"Being sincere. That's what success is," Mike says. "If you're truthful about things, then say it. I know not everyone is going to love us. We're not going to be a multiplatinum band, there's no doubt about that. We don't care about that crap anyway."
"That's just part of our personality," Peter says. " I was never worried about if people pay attention to us. If you properly express yourself, people are notice that you're being real. People know that and they gravitate towards that."
Send a letter to the editor about this story.