11.25.09
home | metro silicon valley index | columns | style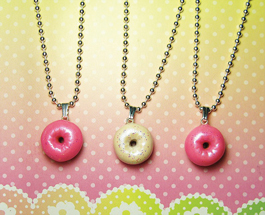 Super Kawaii
Seven local artists bring the cute with their darling, original craft designs that are sure to make shoppers say –ahhh–
By Jessica Fromm
1. Yummie Charms
Donut Necklace
Price: $8.88
Where to Buy: YummieCharms.com
Want to indulge in a confection without consuming any calories? Try these glittery donut necklaces made by San Jose charm designer Yummie Charms. The sweet little wearable treats come in a variety of candy colors, sure to satisfy anybody–s sweet tooth.
2. Herbst Handmade
Craft Patterns
Price: $4
Where to Buy: herbsthandmade.blogspot.com
Herbst Handmade sells original patterns so that anybody can make their own handmade goods. Try this Bay Area designer–s darling Lil– Monkey and Bitty Bear crocheted rattle toys or Bunnykins Baby Slipper patterns for a unique, personal gift for baby this holiday season.
3. Picnic Puff Bag
Price: $35
Where to Buy: froggiefashions.com
This Picnic Puff Bag by Froggie Fashions is roomy enough to carry a picnic to the park and features a charming gold-and-cherry-adorned pattern and magnetic closure. Froggie Fashions is an independent, handcrafted handbag-making operation located in San Jose.
4. Sky Blue Bunny Jewelry
Price: $6–$19.50
Where to Buy: etsy.com/shop/skybluebunny
Sky Blue Bunny Jewelry makes delectable-looking earrings, necklaces and pendants out of polymer clay, glitter, crystals and pearls. A recent college graduate based in San Jose runs the small jewelry-making operation, specializing in cupcakes, ice cream cones and other miniature dessert sculptures. All Sky Blue Bunny jewelry is original and handmade, without the use of molds or templates.
5. Pony Wine Glass Charms
Price: $15
Where to Buy: etsy.com/shop/bloempot
With these tiny, adorable prancing ponies clinking around the stem of your wine glass, people will never have to worry which glass is theirs. Bay Area craft artist Sara Berli hand-built this set of four pony wine glass charms, each is composed from polymer and glazed to be water resistant.
6. Little Miss Moon Baby Hair Clips
Price: $4.50–$8
Where to Buy: littlemissmoondesigns.blogspot.com
Started by a stay-at-home mom who loved quirky colorful accessories, Little Miss Moon creates customized flower baby headbands and hairclips. Each fanciful flower design is fashioned from 100 percent recycled felt made from post-consumer plastic bottles.
7. Curious Pug Clay Figurines
Price: $7.50–$13.50
Where to Buy: curiouspug.blogspot.com
Curious Pug is the brainchild of a laid-off Sunnyvale-based X-ray tech who now tinkers around with clay for a living, manufacturing odd but endearing figurines, magnets and glass tile pendants.
Send a letter to the editor about this story.