11.26.08
home | metro silicon valley index | the arts | visual arts | review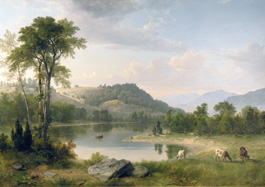 Cantor Arts Center,Membership Art Acquisition Fund, Kazak Fund,the Landreth Family,Clumeck Fund,and an anonymous donor.
NEW-WORLD EDEN: Asher B. Durand's 1854 oil 'Summer Landscape' shows man and nature reconciled.
Stanford Prizes
The Cantor Arts Center shows off its prize possessions in a wide range of media and genres
By Michael S. Gant
WITH A THEME as elastic as recent acquisitions, "Dürer to Picasso" at the Cantor Arts Center encourages fruitful browsing across centuries, media and genres. The exhibit of more than 100 works ranges from silverware and glass to paintings, sculptures, photographs and prints.
The show begins the celebration of the 10th anniversary of the museum's reopening after renovations stemming from the 1989 earthquake. The urge to collect is traced to Leland Stanford Jr., the only son of the university's founding father, railroad baron Leland Stanford. Before his death, at age 15, Leland Jr. was a precocious assembler of bibelots. A selection is on permanent display in a kind of cabinet of curiosities, with a stuffed (and upside-down) hummingbird in a bell jar, mineral specimens, a desiccated lizard, Egyptian perfume bottles and the like. From such humble beginnings are museums sometimes born.
Even as styles vary from the 15th-century realism of Dürer to the 20th-century abstractions of Arp and Miró, a thread of technical mastery links many of the pieces. It took the hands of a master like Rembrandt to create the exquisitely dense, smoky drypoint etching The Star of the Kings: A Night Piece; just as impressive is the woodcut  Melancholy (Evening) , an equally black-ink-suffused landscape with a single musing figure in the foreground by Munch. Of course, talent alone isn't enough, Félix Bracquemond's 1884 etching King David With an Angel of Inspiration is technically adept but borders on kitsch.
Dürer is represented by a large and scary engraving of The Four Horsemen of the Apocalypse (whose hoofbeats seem to be thundering loudly these days) and a suite of miniature prints depicting the passion of the Christ. The magnifying glasses provided reveal an astonishing level of detail. The Harrowing of Hell is crowded with demon heads, while a swollen-bellied dragon drapes himself across a ruined arch, all in a space no bigger than 3-by-5 inches. It's no wonder that the artist liked to mark his bravura pieces with a confident monogram—a D tucked under a stately, architectural A.
Just as anxiety inducing is an etching from Goya's Los Proverbios series. In One Way to Fly; Where There's a Will, There's a Way, men with flexible wings attached to their arms glide through a night sky—are they products of a fevered imagination or portents of things to come? Odilon Redon's 19th-century lithograph illustrations for Flaubert's The Temptation of Saint Anthonyare full of curious phantoms: an eye on a fleshy stalk, a chimera with a hood like a cobra about to strike, a one-legged monstrosity known as a skiapod. Both artists display an uneasy familiarity with the realm of nightmares.
Even an 1801 portrait from nature by English engraver William Ward traffics in menace. A huge Dragon Arum blossom with a single black spadex, or spike, jutting from a deep-crimson leafy sheath against a lightning-filled sky looks more like a scene from the Book of Revelations than a botanical illustration. By comparison, the teeth-bearing squirrels in John T. Bowen's large lithographs taken from Audubon paintings seem almost domesticated.
Forgoing hair-by-hair detail for vividness of impression, Canadian artist Sybil Andrews' color linocut Skaters features two dashing athletes pushing so hard that they look ready to burst out of the frame; their cocked arms and bent knees are all pointy angles. Two four-block linocuts by English artist Claude Flight use the technique's sharp edges and bright color to almost Cubist effect.
The march of sculpture from representation to abstraction is represented by the stretch from Jean Coulon's voluptuous 19th-century white marble statue of a Celestial Hebe (the Greek goddess of youth) wrapped in the wings of a friendly eagle to Jean Arp's Silent, an equally sensuous if nonspecific ovoid form in white marble.
The calmest piece is Summer Landscape (1854) by Asher B. Durand, one of the leading proponents of the Hudson River School. The large landscape depicts a broad swath of still water in front of a distant mountain. Ruminating cows, always a sign of rustic contentment in paintings, amble along the banks; some canoers glide by in the middle ground. Mankind is perfectly integrated into this tranquil vision of nature.
 DÜRER TO PICASSO runs through Feb. 15 at the Cantor Arts Center, Stanford. Free. (415.723.4177)
Send a letter to the editor about this story.