11.26.08
home | metro silicon valley index | silicon valley restaurants | review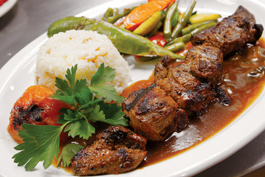 Photograph by Felipe Buitrago
'TIS THE SEASONING: Lamb kebab at Bodrum Café.
Talking Turkey
Bodrum Café blends East and West
By Stett Holbrook
T HIS week is Thanksgiving, and I'm guessing soon many of you will have had your fill of turkey, turkey sandwiches and turkey leftovers. But you've still got to eat, so may I suggest a little something from Turkey—the country, not the flightless bird. I have in mind a new Turkish restaurant called Bodrum Café. When I'm talking Turkey, I'm mainly referring to lamb, because that's what this 3-month-old Mountain View restaurant does really well.
While it's arguably one of the world's great cuisines, Turkish food doesn't get much play in Silicon Valley. There's Café Artemis in Campbell and New Kapadokia in Redwood City. Bodrum Café opened on Castro Street in the place of the short-lived Castro Point. Even if you're not familiar with Turkish food and find the inscrutable, hard-to-pronounce names of the dishes intimidating (zeytinyagi yaprak sarmasi, anyone?), the food is actually pretty familiar and easy to like. Especially if you like lamb.
While Marie Osmond was a little bit country and Donny Osmond a little bit rock & roll, Turkish cuisine is a little bit East and a little bit West. Because Turkey straddles Western Europe and the Middle East, the country's cuisine (or cuisines, since Turkey includes many ethnic groups and regional cooking styles) is influenced by the Middle East, the Caucasus and Europe. But it's a cuisine all its own.
The menu at Bodrum Café is extensive and covers a lot of ground, but it's the lamb dishes that stand out. Lamb in America is still a bit player next to beef, chicken and pork. Some people complain it's too gamey, but the gaminess has been bred out of lamb to such a degree that I sometimes find it indistinguishable from beef—and even miss that gamey tang.
A good start is the lahmacun ($7.95), Turkey's take on pizza. The thin flat-bread is sprinkled with ground, heartily seasoned lamb. It's great with a squeeze of lemon juice. Pair it with the good roasted eggplant salad (icmi, $6.95) and crisp-outside, chewy-inside sigara boregi (fried, cigar-shaped pastry filled with gooey feta seasoned with dill and parsley, $5.95). For something more substantial to start your meal, check out the big and bold icily kofte ($6.95), a two duck egg–size steamed bulgur wheat flour shells stuffed with spiced ground lamb, pine nuts and caramelized onions.
Other starters like the tough and fishy midye dolmasi (mussels stuffed with rice, pine nuts and currants, $7.50) and disturbingly fizzy zeytinyagli kerveiz (celery root salad, $6.95) were less impressive.
Doner kebab, sliced lamb cooked in a vertical broiler gyros style, is arguably Turkey's best-known dish, but it's only available on weekends so I missed out on that. But there are plenty other entrees to recommend. Yogurtlu adana kebab ($14.95) is another Turkish classic, and it's great here. Ground lamb is blended with red bell peppers, paprika and various herbs and then skewered and grilled until the meat is beautifully charred while inside it is juicy and full of big, hearty flavors. It's served alongside a creamy lake of yogurt garlic butter and a tomato sauce tossed with crunchy croutons. It's a thoroughly satisfying dish.
Turkish food is easy to like because it has analogs in other cuisines. For example, the excellent incikkapama ($19.95), a slow-braised lamb shank suffused with a tomato and onion sauce, had me thinking of osso buco. Bodrum patlican güvec ($15.95) is the Turkish equivalent of moussaka, a bubbling casserole of ground lamb, eggplant and kasseri cheese. Sticking with the lamb theme, hunkar beyendi ($15.95) is another winner for those with big appetites. Chunks of lamb sirloin are sautéed with tomatoes, onions, garlic and bell peppers over a creamy purée of smoked eggplant.
Kayseri mantisdi ($15.95), ground beef raviolis, is another well-known Turkish dish. It's faithfully rendered here, but it drowns under a bucket full of garlic-infused yogurt.
Desserts (all $5.95) are quite good. Bodrum makes its own pistachio baklava and it's less over-the-top sweet than most. I also liked the künefe, baked shredded filo dough filled with sweet, molten cheese and pistachio. Kazandibi is a dense, layered rice pudding perfumed with the love-it-or-hate flavor of rose water. I loved it.
After my lamb-heavy dinner, I decided I needed to try another nonlamb dish, so I came back for lunch. I ordered the tavuk shish kebab ($13.95). The chicken kebab was quite good, plump and juicy with a tangy herb and spice crust. But somehow I found myself looking back at the menu for any lamb dishes I might have missed. I'll have to come back again for more.
---
Bodrum Café
Address: 383 Castro St., Mountain View.
Phone: 650.396.7010.
Hours: 10am–10pm daily.
Cuisine: Turkish.
Price Range: Entrees $9.95–$24.95.
Web: www.bodrum-mtv.com
Send a letter to the editor about this story.