11.26.08
home | metro silicon valley index | movies | current reviews | dvd review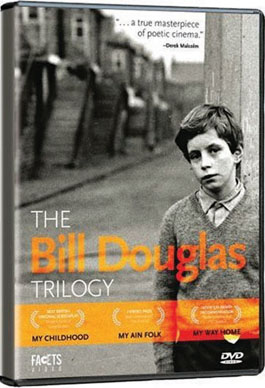 Bill Douglas Trilogy
Two discs; Facets; $39.95
Reviewed by Richard von Busack
The films collected in this set—My Childhood (1972), My Ain Folk (1973) and My Way Home (1978—collectively suggest a few things: (1) an alternate title could be How Bleak Was My Valley; (2) see here the extremity of deprivation that makes some people from Great Britain regard Americans as smiling morons; (3) and see here a lesson in why the existence of the Beatles was a miracle, considering how well these films evoke the times and the coal-black, cold-water and brick-walled existence from which the four men sprouted. In these short films, Douglas follows the adventures of his surrogate Jamie (Stephen Archibald, a highly talented nonprofessional who died before he was 40). Like Douglas, Jamie grows up in a Scottish coal-mining town, the illegitimate son of a woman who lost her mind, living with two grandmothers (one inert, the other vicious) before living in an orphanage. The almost mute boy wants to be an artist of some sort. He is drawn to cinema, in the form of a 1945 musical with banjoleleist George Formby or a lone splash of Technicolor, with Lassie gazing at the Sierra Nevada, which are impersonating the Scottish highlands. As an impressionist study, Douglas' trilogy is something similar to Terence Davies' Distant Voices, Still Lives, but his films are even more tough, leavened with moments of Vigo-like dreaminess and darkened by Lynchian nightmares. English subtitles and copies of Douglas' poetic scripts would have been useful, but the extras do include a documentary, Bill Douglas: Intent on Getting the Image, which describes the director's short life and curtailed career. Douglas' only feature, Comrades, a working-class epic about the Tolpuddle Martyrs, is not yet available on DVD. Key among the interviewees is Peter George, Douglas' collaborator and longtime companion; they weren't lovers, apparently, despite the male-identified imagery in the last and best of these three films.
Click Here to Talk About Movies at Metro's New Blog
Send a letter to the editor about this story.