11.26.08
home | metro silicon valley index | movies | current reviews | dvd review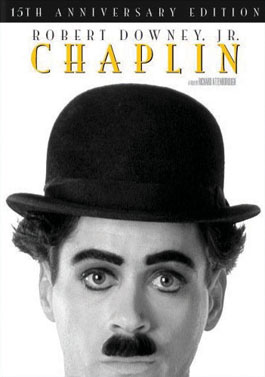 Chaplin: 15th Anniversary Edition
One disc; Lionsgate; $19.98
Reviewed by Richard von Busack
Richard Attenborough's 1992 biopic is thoroughly knowledgeable about the sometimes enigmatic, sometimes self-pitying cinema genius Charlie Chaplin. But the movie's old-fashioned insistence on the secret to the man—that maddening mainstream film tendency to try to sum up a life in one sentence—finds a no-there there. Chaplin is one of the most honorable and well-researched Hollywood biopics and also one of the flattest. In the title role, Robert Downey Jr. gives his all. The premise is that in old age in Switzerland, Chaplin is interviewed by a reporter (Anthony Hopkins) who asks probing, unlikely questions. You get distracted in this interrogation by some of the interesting actresses around in the flashbacks, playing the women in Chaplin's life and career: Marisa Tomei as Mabel Normand, Moira Kelley as both Hetty Kelly and Oona O'Neill, and Diane Lane as Paulette Goddard. Dan Aykroyd steals the movie, having just the right amount of salt and grit to be Mack Sennett; Geraldine Chaplin plays her own grandmother in an affecting madhouse scene. This oddly titled special edition (shouldn't that be 16th anniversary?) includes featurettes about the film and Chaplin's career (most interestingly, Attenborough suggests that the reporter character was added late in the game and "buggered" the movie) and a short home movie taken by Alistair Cooke in 1933 showing Chaplin clowning aboard his yacht.
Click Here to Talk About Movies at Metro's New Blog
Send a letter to the editor about this story.