11.26.08
home | metro silicon valley index | movies | current reviews | film review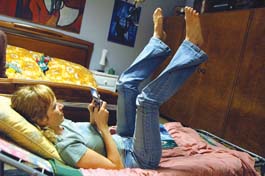 JEAN THERAPY: Marcela (Anna Geislerová) relaxes in 'Beauty in Trouble.'
Czech Mates
Moving back home doesn't solve a woman's problems in 'Beauty in Trouble'
By Richard von Busack
MANY Californians who have houses "underwater," mortgagewise, might feel better off after seeing the Czech film Beauty in Trouble by Jan Hrebejk (Divided We Fall). The Prague floods of a few years ago serve as the springboard for a very dry romance. Marcela (Anna Geislerová) has a moldy house and two children . She is married to Jarda (Roman Luknár), who operates an automobile chop shop in the house's courtyard. After a fight, Marcela moves back in with her mother, as well as that mother's no-good husband, whose name has been Anglicized as Richard (Jiri Schmitzer). Richard doesn't want Marcela and her kids around, unless he has molesting privileges on the budding older daughter. At this point, Jarda's business associate steals a car with the Czech version of LoJack on it, and the police track it down and take Jarda to jail. The fancy car belongs to the wealthy and aged Czech expatriate Benes (Josef Abrhám), who has returned to his homeland to cash out some property owed to him by the former Communist government. In the waiting room at jail, Marcela and Benes meet, and the elder man offers to give the lady and her children a better life.
Beauty in Trouble is inspired by a tart poem by Robert Graves, known not only for the use of the word "vespertilian" (batlike; the Penguin needs this word), as well as the poem's sarcastic finale, a boomerang twist on Sonnet no. 116. The poem illustrates Nelson Algren's principle, "Never sleep with anyone whose problems are worse than your own," or at least don't expect thanks after you've lent your good luck to someone else's bad. The Graves poem provides lyrics for the title song by the Czech chansoniste Raduza. This smoky cafe accordionist and singer is required to share this soundtrack, which ought to have been hers alone, with the tedious Glen Hansard. Hansard's "Falling Slowly," a.k.a. "The Endlessly Repeated Oscar-Winning Love Theme From Once," turns up, whether you wanted to hear it again or not.
A few discursions meander from the main plot—passages about the treachery of Czech Republic real-estate laws, funeral rites and a torrid yet sardonic sex scene. What interested me most, though, was the goaty "uncle" Richard. Schmitzer looks like a cross between Gollum and Willem Dafoe, and his particular nastiness keeps stealing this film. His place is covered with photos of Charlie Parker and Vermeer reproductions. Even though he's a selfish baboon, he obviously thinks of himself as a man of culture. He pleads illness to explain his laziness; he moans about his diabetes, his license to lie on the couch and soak in lager all day long. While he's unquestionably a villain, the emphasis on Richard makes me wonder if he's supposed to represent some Czech national characteristics. Does he embody that stubbornness we celebrate and lament in any country that was occupied by foreigners? Seeing Schmitzer, you think of that Churchill quote: he's either at your throat or at your feet. Ritchie is a monster, but an engrossing human one. Weirdly, this pervert triumphs. He's last seen soaking what the subtitles had earlier referred to as his "slimy dingdong" in some nice warm water.

BEAUTY IN TROUBLE (Unrated; 110 min.), directed by Jan Hrebejk, written by Petr Jarchovsky, photographed by Jan Malir and starring Anna Geislerová and Kiri Schmitzer, opens Nov. 28 at Camera 12 in San Jose.
Click Here to Talk About Movies at Metro's New Blog
Send a letter to the editor about this story.