11.26.08
home | metro silicon valley index | movies | current reviews | film review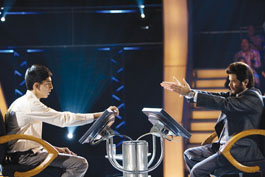 Photograph by Ishika Mohan
INFORMATION, PLEASE: Young Jamal (Dev Patel) faces the host (Anil Kapoor) of an Indian quiz show in 'Slumdog Millionaire.'
Bombay Talkie
'Slumdog Millionaire' is half cuddly and half chilling, and the two halves don't fit
By Richard von Busack
THE BITTER FRUIT of a writer's strike, Who Wants to Be a Millionaire? was an game show overinflated with Regis Philbinized carbon dioxide. Any serious Jeopardy fan has to find it a game for blinking underachievers, considering its possibility for lifeline help. Slumdog Millionaire can first be recommended to people who found the show absolutely fascinating. Danny Boyle's film is about a winner on an Indian version of the show, hosted by a subcontinental Philbin (played with unctuousness and viciousness by Anil Kapoor). The film also tries to re-create the show's nervous pauses with the hero, Jamal (Dev Patel), screwing up his face as he tries to remember the answers. Despite some of Slumdog Millionaire's good qualities, I'm in the minority on this critic-pleaser: there were many times I wanted to change the channel to Alex Trebek.
Boyle tells the story in flashback, beginning with a Mumbai police interrogation. The Muslim Jamal is waterboarded, electro-shocked and beaten, but he refuses to tell the cops how he became a million-rupee winner on the game show. Eventually, a more sympathetic police inspector listens to Jamal's story of hardships. Orphaned during a race riot, Jamal became a street hustler, taken in by a Fagin called Maman (Ankur Vikal). Maman uses Victor Hugo methods to get the most money out of his orphans. We see the mutilation taking place; sentiment and shock go together like peanut butter and jelly. Before they arrive at Maman's camp, Jamal and his brother, Salim (Madhur Nittal), meet the girl Latika who later grows up into a beauty in the form of Freida Pinto; the two brothers become train hustlers and tourist robbers before Salim takes up a serious life of crime. After hearing Jamal out, the police inspector judges that this story is "bizarrely plausible." The funny thing is that such a childhood life of crime seems to be news to him; it makes you wonder what kind of crimes the inspector has been inspecting. The movie might be more compelling if we smelled a rat in Jamal's tale. But he's all hero, and he doesn't have a mean bone in his body. Dev Patel is an easygoing looker; Patel has Tom Cruise's own little demi-turn, shake of his head and wow-can-this-be-happening-to-me grin.
On the one hand, the digital camera work gets us into neighborhoods that would have been too desperate for a ordinary camera crew. Boyle gives us angles on India we haven't seen before, such as a look at the garbage-strewn lagoon near the Taj Mahal. On the other hand, the results of the small-camera work are wan, dyspeptic color and editing that races to the threshold of visibility. Boyle reprises some of the bits that made him famous in Trainspotting—a police foot chase and a way-more-septic version of "The Worst Toilet in Scotland" gag. But in this film-festival hit, the square peg of Bombay ghetto life is driven into the round hole of a Dickensian plot, complete with winner-take-everything finale. The grottiness and the torture sequences are just window dressing to make the fluff seem real. It does the opposite, making the real seem fluffy.

SLUMDOG MILLIONAIRE (R; 120 min.), directed by Danny Boyle, written by Simon Beaufoy, based on the novel by Vikas Swarup, photographed by Anthony Dod Mantle and starring Dev Patel, plays at selected theaters.
Click Here to Talk About Movies at Metro's New Blog
Send a letter to the editor about this story.