11.26.08
home | metro silicon valley index | music & nightlife | band review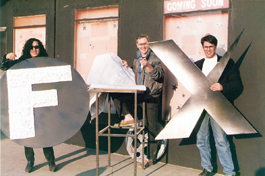 WHAT'S THAT SPELL?
From 'F' to 'X': Brian Raffi, Bob Cullen and Fil Maresca
Special F/X
Former F/X owner Fil Maresca reconvenes the counterculture
By Gary Singh
A LONG time ago, in a San Jose far, far away, a quartet of unorthodox clubs thrived in the vicinity of First and San Fernando streets, initially beginning in the late '80s. In order of their immaculate conceptions, they were: Marsugi's, Cactus Club, F/X, and then in 1991, Ajax. All four places collectively spearheaded a natural counterculture scene that grew entirely by itself and fostered a sense of community above all else.
Of those clubs, F/X had the largest capacity, as it was located in the old Pussycat Theater, a former porno movie house. At F/X, variety was crucial. You'd see national touring bands, B-movies, British motorcycle events, fetish dancing, oddball costume contests or even Twin Peaks episodes in the afternoon—basically anything for creative types who couldn't bear the mainstream clubs and the meat-market bars.
This Friday, former staff and regulars from F/X will convene at the Blank Club for a reunion, primarily just to catch up and see what everyone else is doing these days. DJs who originally spun at the club will come in from San Francisco, Los Angeles and New York. In anticipation of the upcoming event, former F/X owner Fil Maresca and I recently yakked about those days over coffee at Café Triste, right down the block from where it all went down.
"It was a time when there was a lot of redevelopment happening downtown, but it was all two blocks away," he recalled. "Everything was happening north of San Carlos Street. We were kind of in our own little pocket. We were seeing all this money being spent, and we said, 'OK, we're going to do this our way with our own money, so let's give it a try.'"
And that's exactly what happened. Coffee shops, a mini-bookstore and an alternative clothing shop soon followed. Underground Records relocated to First Street. An organic and varied live music scene erupted out of the four clubs.
"It was hopeful," Maresca said. "You felt like you were in on the ground floor. You were doing something before anybody else, something that was going to be really popular. You felt like you were the inside guy, you knew that you were happening, you knew what was going on. The numbers weren't huge, but the kind of people and the regularity of the people, and the fact that you could bounce around—the doormen at all four clubs knew everybody who were regulars on the street. We knew the staff at every other operation and we certainly knew the customers at every other operation. Everybody walked between places. It was community. ... It was a wild, weird, alternative community, but a community nonetheless."
He's exactly right. Those who hung out on South First during those initial years felt like they were right smack in the middle of something that was just beginning to grow, especially when the SoFA street fair started in 1992. Everybody knew everyone else and nobody showed up intentionally looking for trouble.
"When we started this scene, it was all people who were down here three, four or five nights a week," Maresca said. "There were no weapons, there was no hate. We all cared about being here."
Things have changed and people have moved on, but the seeds of a reunion sprouted on the social networking site Facebook.
"It started as a joke between two people on Facebook, to see how many people we could get. The key was the photos. Once everyone started putting up the photos and the fliers from those days, it went from there," says Maresca. "This event is going to be organic too. People are just going to show up. The purpose is not to relive anything, but more to, like, check in and see who's there, and what they're doing, and just listen to the music."
Gee, what a concept.
THE F/X REUNION happens on Friday (Nov. 28) at the Blank Club, 44 S. Almaden Ave., San Jose. Admission is $10. (408.292.5265)
Send a letter to the editor about this story.