11.26.08
home | metro silicon valley index | the arts | stage | review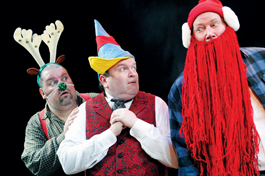 Photograph by Dave Lepori
HOLIDAY CUTUPS: Martin Rojas-Dietrich (left), Coliin Thomson (center) and Kevin Blackton send up the season at San Jose Stage.
Mock-mas
San Jose Stage Co. skewers Dickens, Rudolf and the rest of the gang in 'Every Christmas Story Ever Told'
By Mike Connor
IT IS hard to overstate the quality of the performances in San Jose Stage Company's production of Every Christmas Story Ever Told, but I guess it's worth a try: The actors in this play were so funny, their timing so impeccably perfect, that they literally killed three-quarters of the audience, whose bodies have already been donated to science for the study of comedy's lethal effects. There, that should just about overdo it.
Speaking of exaggeration, Every Christmas Story Ever Told isn't what it claims to be. There is, for example, no mention of any of South Park's growing catalog of Christmas specials like Mr. Hankey, the Christmas Poo or the Woodland Critter Christmas, in which adorable little forest creatures sire the Antichrist. This play isn't as anxious to despoil holiday clichés, but it does give them a little holiday goose, and the overstated title is a sarcastic nod to the fact that there aren't actually that many Christmas stories that get any serious play—we see the same old dozen or so chestnuts every year.
This performance starts with one of them— a heavily accented and rather stodgy production of A Christmas Carol—but quickly falls apart when the actor playing the ghost of Jacob Marley (Kevin Blackton), laden with chains and a ridiculous wig, realizes he's had enough of Dickens' classic. "The first time I did it, man, I was Tiny Tim!" says Kevin, who then proposes an alternative idea: perform all the "beloved holiday classics" (or "BHC" as they come to call them) along with Christmas stories from all over the world. Marty (Martin Rojas-Dietrich), a buffoonish man-child possessing the exuberance of 10 drag queens, is easily convinced. Colin (Colin Thomson) plays the straight man of the farce and earnestly resists the idea, but the enthusiasm of the other two—"Xmas Xtreme!" "Let's get ready to JINGLE!"—prevails.
What follows is a do-it-yourself, free-association trip through the fully commercialized, commodified and copyrighted phenomenon of Christmas, complete with product placements (Norelco shavers, Pee-wee Herman Pull Toy, Crying Game Barbie, etc.), a spoof of the Macy's Thanksgiving Day parade and an extended riff on fruitcake. Audience participation adds an improv element to a couple of the skits, including a game-show segment in which Kevin plays a deliciously sleazy host and a performance of "Gustav the Green-Nosed Reingoat," the story for which is strikingly similar to the strictly copyrighted reindeer classic.
"Frosty the Snowman" meets his maker, "Gift of the Magi" gets the wise-guy treatment and the Peanuts characters bring on the most unexpectedly poignant moment of the play. The guys also have some fun at the expense of other cultures' holiday traditions, from Europe to Easter Island. Scotland's is particularly rich, mostly because of Colin's barely intelligible brogue. But the most impressive feat of comedy comes during the second act, a kind of theatrical mashup of A Christmas Carol and It's a Wonderful Life that has Colin switching back and forth between Ebenezer Scrooge and George Bailey in an exhaustively hilarious performance. There's even a bit of caroling thrown in for good measure, proving that while they may not actually cover every Christmas story ever told, it's not for lack of trying, and it's definitely not for lack of talent.
EVERY CHRISTMAS STORY EVER TOLD, a San Jose Stage Company production, plays Wednesday–Thursday (no show Nov. 27) at 7:30pm, Friday–Saturday at 8pm and Sunday at 2pm through Dec. 21 at the Stage, 490 S. First St., San Jose. Tickets are $20–$45. (408.283.7142)
Send a letter to the editor about this story.