11.26.08
home | metro silicon valley index | the arts | stage | review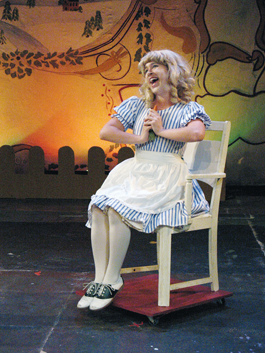 Photograph by Kit Wilder
FRACTURED FAIRY TALE: Danelle Medeiros plays Goldilocks for City Lights' holiday show.
Tresses
City Lights welcomes the holidays with a musical 'Rapunzel'
By Jessica Fromm
MOST PEOPLE know the classic Grimm Brothers fairy tale of Rapunzel: unfortunate married couple live next to a witch's garden, pregnant wife covets said witch's produce, husband gets caught stealing from veggie patch, baby girl gets traded for salad and locked in tower, condemned to an existence of coiffure upkeep until a dashing young prince comes to rescue her. It is on this trifling plot that the first half of City Lights Theater Company's production of Rapunzel, or Hair Today, Gone Tomorrow, is based. Rapunzel is, in one word, silly—and that's OK. The whole production is very vaudevillian in nature, especially the latter half, a Holiday Musical Revue. Its charm rests more on slapstick, skits and over-the-top characters than on anything substantial.
It is a musical to boot, so the entire cast sings along to a mixed bag of show tunes, pop songs, Christmas ditties and operatic arias that are loosely incorporated into Rapunzel's story line. The City Lights Theater is small enough that they can offer unamplified accompaniment by a single piano, played by the talented Michael Johnson. Also in charge of musical direction, Johnson is an exceptional piano player, never missing a beat while pounding away at the keys. Showing off their musical chops are Sarah Giner as Rapunzel, clad in a bubble-gum pink Barbie gown and 12-foot poodle braid, and Michelle Markwart Deveaux as evil witch Pantella Prell, donning a bad '80s Elvira wig (no wonder she's so angry).
Jake Van Tuyl and Samantha Bartholomew play Rapunzel's unfortunate parents. Isaac Benelli plays preening Prince Harry Suave, and Danelle Medeiros is feisty Goldilocks Garnier, a character whose presence is never explained. The whole premise is so feather-light that it doesn't even matter. Fast-talking lawyer Paul Mitchell is played by Jimmy Robertson, the cast's conduit to the audience. Looking uncannily like a dimpled Joey McIntyre, Robertson is a marvelous comedic presence whose energy and zeal light up the whole stage. He also proved himself a skilled tap dancer during the holiday half of the play.
A Holiday Musical Revue rounds out the evening with tunes, dancing and comic sketches by the same seven cast members who were in Rapunzel. Red toy pianos were carted onstage for a Peanuts-esque group rendition of "Carol of the Bells," and Giner's sincere, expressive performance of "Have Yourself a Merry Little Christmas" was a touching highlight. The revue even includes a brave gay-themed duet titled "Lovers on Christmas Eve." The piece was executed so earnestly by Robertson and Van Tuyl that the audience erupted with applause after the song.
Ron Gasparinetti's stage is both fairy-tale-like and holiday oriented. Painted tower walls are framed by twinkle lights, the piano is covered in red velvet and poinsettias, and the venue is decked out in holly. The large, bare stage becomes essential for this rambunctious musical, with all cast members at some point leaping, skipping, dancing and running up and down the stairs, interacting with audience members. However, the enthusiastic delivery almost doesn't make up for what the writing lacks in raw wit. The squeaky-clean topical jokes seemed not so contemporary—making fun of jailbird Martha Stewart and Britney Spears is so 2004. Heavy on cute and cheese, Rapunzel is great for some good old-fashioned variety fun and for families with kids. Others may find themselves wincing throughout this distinctly syrupy, if heartfelt, performance.
RAPUNZEL, OR HAIR TODAY, GONE TOMORROW and HOLIDAY MUSIC REVUE, a City Lights production, plays Wednesday (Dec. 3, 10 and 17) at 8pm, Thursday–Saturday at 8pm and Sunday at 2 (Dec. 14 and 21) or 7pm (Nov. 30 and Dec. 7) through Dec. 21 at City Lights, 529 S. Second St., San Jose. Tickets are $25–$40. (408.295.4200.)
Send a letter to the editor about this story.