11.28.07
home | metro silicon valley index | the arts | books | review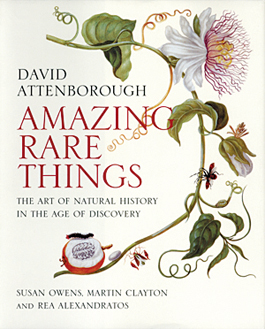 Amazing Rare Things: The Art of Natural History in the Age of Discovery
Review by Michael S. Gant
With his unwavering eye for natural detail and his consummate hand, Leonardo Da Vinci could make art even from anatomy, as witnessed by a remarkable notebook sketch from about 1508 of the gravid uterus of a cow with the tissue removed to show an expanded bulbous spiral of blood vessels. Amazing Rare Things by David Attenborough (with additional essays by Susan Owens, Martin Clayton and Rea Alexandratos) uses the drawings and manuscripts at the Royal Library at Windsor Castle to track in broad outline the history of how artists and naturalists recorded plant and animal life from the late 1400s to the early 1700s, a stretch often referred to as the Age of Discovery. During this period, explorers brought back to Europe images and specimens of a bewildering profusion of fauna and floral. At first the fantastical (unicorns and dragons) mixed with the wondrous but real (Albrecht Dürer's famous etching of a rhinoceros). Eventually, precise observations substituted firsthand knowledge for secondhand rumors. The artists covered are da Vinci; Alexander Marshal, who toiled more than 30 years on his English "plant portraits"; the intrepid female pioneer Maria Sibylla Merian, who, in her 50s, ventured to Surinam to paint vivid pages full of jungle insects; and American Mark Catesby, whose fame as a bird tracker was eclipsed by Audubon. There is also a chapter on Cassiano dal Pozzo, who collected a wealth of natural-history illustrations in his "Paper Museum." These artists helped start a scientific revolution, but we remain entranced by their aesthetic skills. The superb reproductions recommend Amazing Rare Things, from Merian's big-nosed lantern flies investigating pomegranate blossoms to Catesby's painting of a tiny slay-legged lizard working its way up a riot of foliage; from Marshall's exquisite primula variations to a simple cat curled up in a sleeping ball by da Vinci.
By David Attenborough; Yale University Press; 223 pages; $37.50
Send a letter to the editor about this story.