11.28.07
home | metro silicon valley index | the arts | books | review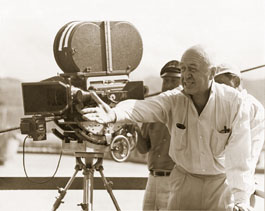 Otto Preminger Films, Inc.
LARGE AND IN CHARGE: Otto Preminger wanted shock and spectacle in his movies.
Otto Biography
Foster Hirsch's new biography of imperious director Otto Preminger is the anatomy of an auteur
By Richard von Busack
HE HAD a sizable, egg-shaped head, which he buzzed clean with an electric razor. Surly Lex Luthor eyebrows framed beady eyes. When thwarted, director Otto Preminger displayed a V-shaped snarl. You've seen that look in the movies, cracking Adam Sandler's face when Sandler spots the weakest person in a room.
Perhaps the notorious wrath was necessary. Preminger was, as Foster Hirsch reminds us in his biography Otto Preminger: The Man Who Would Be King, "the first fully independent producer-director in America." And Preminger's childhood was a recipe for insecurity. His father held something like the office of attorney general to Emperor Franz Josef. This was a high honor for a Jew in imperial Vienna, rotten to the floorboards with anti-Semitism.
Dutifully earning a law degree, Preminger turned to the theater. He came to Hollywood via Broadway. Darryl Zanuck of 20th Century-Fox thought of Preminger as a possible replacement for the ailing Ernst Lubitsch. Maybe Preminger's finest work was under the studio system with the polysexual and smooth 1944 film noir Laura. What Preminger really lived for was shock and spectacle. In his constant efforts to make America movies more adult, he was a few years ahead of his time.
Preminger chose smart collaborators. Saul Bass' smashing graphics were essential to the experience of a Preminger film. The director's sterilized farce The Moon Is Blue got the word "virgin" onscreen in the hidebound 1950s. And Preminger's fine courtroom thriller Anatomy of a Murder destroyed many a screen taboo.
The Man With the Golden Arm gave us a first post-Code look at the horrors of detox. And Advise and Consent had a scene set in a gay bar, years before Stonewall. (As a 8-year-old, watching Preminger's The Cardinal on TV with my mom, I first learned about the KKK and abortion on the same night.)
Preminger loved hot buttons, but as a director he was drawn to fragile temperaments; several of his lead actresses committed suicide or overdosed under suspicious circumstances (Dorothy Dandridge, Marilyn Monroe, Maggie McNamara and Jean Seberg). That's not Preminger's fault, but it suggests the kind of nervous performers he drew upon.
His male stars—John Saxon, Tom Tryon, Dana Andrews and Keir Dullea—were also actors who could be dominated. "Awful Otto's" fury was legend. But as Screamin' Jay Hawkins put it, "I wasn't the only one who screamed." In an industry that included Harry Cohn, William Wyler and Fritz Lang, Otto's fulminating temper was just one of many.
Hirsch tries to rehab some of Preminger's most reviled movies. From his fond description, Such Good Friends sounds like Desperate Housewives before its time, and Hirsch makes Bunny Lake Is Missing a must-revisit film; an incest-flavored late-harvest noir with Laurence Olivier, Carol Lynley and Noel Coward sounds pretty tangy.
Hirsch also argues on behalf of Porgy and Bess, which he calls "one of the most misunderstood, underrated, unfairly treated works in the history of the American film." (Gershwin's heirs have imprisoned the film for decades.) Lead actor Sidney Poitier never played minstrels, and who wouldn't want to see Sammy Davis Jr. performing "It Ain't Necessarily So"?
Hirsch's brief for the elephantine Exodus is less convincing. Author Leon Uris comes closest to slandering Preminger's character—"A Hitler! A Saddam!"—as one expected when picking up this book. I'm looking forward to finding out whether the author is right about some of these hard-to-find films. Certainly, Hirsch's book is far more valuable than Preminger's genial yet unenlightening autobiography.
Like many tyrants, Preminger was a wonderful family man. Hirsch includes enough accounts of the moviemaker's gentle side to suggest that the foam and the froth were all part of his devotion to showmanship. There was a downside to Preminger's methods, though. He was a bully, and he insisted on adapting sow's-ear novels. "Good books make bad movies," Preminger claimed. This habit was reflected in films often free of delicacy and spontaneity. Hirsch quotes Dullea: "No one ever gave the performance of a career in a Preminger film." It's a damning critique, even if Hirsch tries to keep Preminger on the side of the angels.
OTTO PREMINGER: THE MAN WHO WOULD BE KING, buy Foster Hirsch; Knopf; 592 pages; $35 cloth.
Send a letter to the editor about this story.