11.28.07
home | metro silicon valley index | the arts | books | review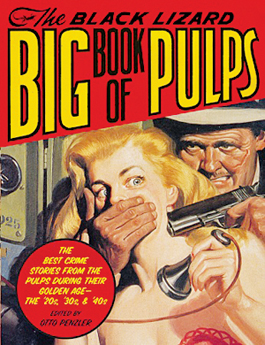 The Black Lizard Big Book of Pulps
Review by Michael S. Gant
"I can take trouble or leave it alone; only I always take it." Paul Cain's hard-boiled motto in the short story "One, Two, Three" pretty much sums up the pulp mystery genre. Gats, dames and gangsters filled the pages of cheap-paper illustrated magazines like Black Mask, Dime Detective and Detective Story in the 1920s, '30s and '40s. If the plots sometimes resolved themselves rather too neatly, the action never let up, and the prose sizzled with pungent underworld slang. Black Lizard has specialized in reprinting hard-boiled and noir novels for years, and now it has unleashed a mega-anthology of pulp stories. This monster collection should keep fans up nights for a long time, if their wrists are strong enough. The 53 stories are divided into three sections ("The Crimefighters," "The Villains" and "The Dames") printed the old-school two-column way and come with black-and-white illustrations from the original mags. The authors range from the high honchos of the genre—Dashiell Hammett, Raymond Chandler, Erle Stanley Gardner and Cornell Woolrich—to some names so obscure that editor Otto Penzler confesses that even he couldn't track them down. In the latter category, Robert Reeves certainly rates more research. His "Dance Macabre" is a harsh, dark tale of life at the bottom rungs of a dime-a-dance (make that three dances for a dime) joint, where jealousy and obsession lead to murder, and the police casually try to beat confessions out of suspects. A couple of stories prove that not all pulp protagonists were cynical guys in trench coats. C.B. Yorke's "Snowbound" is narrated by gangland player Queen Sue, who strikes back when her male rival (Suds Garland—the nicknames add a lot to these tales) tries to plant cocaine at her Club Bijou. Not all of the stories bear rereading, but several are classics (Raymond Chandler's "Red Wind" begins with the oft-quoted description of the hot, dry Santa Anas that make "meek little wives feel the edge of the carving knife and study their husbands' necks), and the writing spares no sentiment. As Queen Sue says, "All men—and women, for that matter—look alike to a hunk of lead."
Edited by Otto Penzler; Vintage; 1150 pages; $25 paper
Send a letter to the editor about this story.