11.28.07
home | metro silicon valley index | silicon valley restaurants | review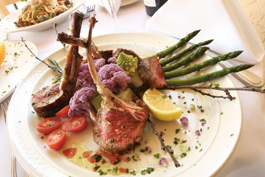 Photograph by Felipe Buitrago
CUISINE OF A DIFFERENT COLOR: Ristorante Da Mario takes a creative approach to Italian, as this lamb shank shows.
Super Mario
Saratoga's new neighborhood spot for Italian is a cut above
By Stett Holbrook
ITALIAN FOOD was one of America's first ethnic cuisines to go mainstream. Although much of what is served at Italian restaurants—then and now—caters to American tastes (lots of red sauce, lots of cheese), the food has long been part of the country's culinary landscape. In fact, calling it ethnic food no longer fits. It's as comforting and familiar as pot roast or fried chicken.
That's part of what makes Saratoga's Ristorante Da Mario so inviting. The 6-month-old restaurant serves the greatest hits of Italian-American food—spaghetti Bolognese, spaghetti with meatballs, carpaccio, veal and ricotta cannelloni, saltimbocca—but prepares them with a freshness and integrity that elevates them from your typical red-and-white checkered tablecloth Italian-American restaurant. The quality of ingredients and several less-than-typical dishes further distinguish it.
The prices—most dinner entrees go for about $16—make it a popular neighborhood restaurant. The place fills up quickly with families and older couples out for a good, reasonably priced meal. And when co-owner Sandro Constanza picks up his electric guitar and starts singing "Volare" from a little makeshift stage in the corner and diners start singing along as they fork into their meatballs, you feel like you've been welcomed into the back room of the Italian-American club.
Like Constanza, chef and co-owner Mario Ibarra comes from Italy, as do many of the restaurant's front-of-house staff. They could be talking about laundry lint for all I care—the lyrical sound of a bunch of guys speaking rapid-fire Italian adds to the atmosphere of the small restaurant. Constanza used to own Star Bene in Santa Cruz (where Ibarra was chef), but sold the restaurant three years ago.
The antipasti and salads are particularly strong. The mozzarella and proscuitto ($14.50) is an example of how the restaurant elevates a typical dish with first-rate ingredients. The mozzarella di bufala is wonderfully fresh and creamy and the top-shelf San Daniele proscuitto is as good as you'll find outside of the old country.
The filet mignon is sliced so thin for the carpaccio di manzo ($12.50) it's hard to pick up, but, paired with generous shavings of Parmesan cheese and capers, the raw, rosy colored beef is worth the effort required to get it on a fork and to your mouth. Crostini di tonno ($12.50), marinated tuna chunks served atop crostini, departs from the traditional Italian pantry with the use of lime juice and ginger. The cevichelike fish dish is clean and fresh.
Only the creamy asparagus and zucchini soup ($7) let me down. The flavors were muted and it needed a good dose of salt to bring it to life.
Pastas are all made in-house. Spaghetti alla amatriciana ($15.50) is a hearty, satisfying pasta dish made with a sauce of onions, tomatoes and delicious roasted pancetta. The rough edges of the fresh spaghetti help the sauce cling to it rather than sliding off the way packaged pasta does. The gnocchi ($16.50), also made in-house, is another standout. The silky, gravity-defying little dumplings are paired with a choice of pesto, Gorgonzola sauce or tomato sauce.
From the list of nightly specials, the stuffed petrale sole ($23.50) was excellent. Rolled up with a garlicky mixture of leeks, artichoke hearts and rock shrimp it was the table favorite. The grilled ribeye with gorgonzola ($24), another special that night, didn't fare as well. The steak was cooked well enough, but an excess of fat and gristle dragged it down.
The wine list is small, but offers several gems, especially from the Italian side of the menu. Most of the selections are drawn from Gambero Rossi, a trusted guidebook that ranks Italian wines. Check out the silky 2004 Passum Barbera ($49). The domestic wines, however, are unremarkable and available at any Safeway for a lot less. Saratoga is a wine-savvy town and a deeper, more expansive wine list would be welcomed.
Like the pasta, desserts ($7) are also made in-house and they're quite good. I loved the quivering vanilla panna cotta and rich tiramisu, but it was the cannoli that stole the show. The thick but light pastry shell is filled with chocolate and sweetened ricotta cheese spiked with orange zest and delicious stewed Amarene cherries on the side. It's a sweet ending for a sweet little Italian-American neighborhood restaurant.
---
Ristorante Da Mario
Address: 14441 Big Basin Way, Saratoga.
Phone: 408.741.1518.
Hours: Lunch 11:30am–2:30pm Mon–Fri, dinner 5–9:30pm daily.
Cuisine: Italian.
Price Range: $14.50–$24.
Send a letter to the editor about this story.