11.28.07
home | metro silicon valley index | music & nightlife | band review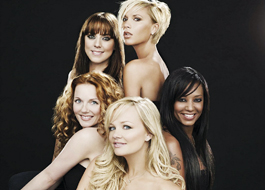 Photograph by PHOTOCRED
Spice Rack: The Spice Girls are back, and there's nothing you can do about it.
Spiced Life
True confessions of a real, live Spice Girls fan
By Yael Wachspress
I HAVE a confession. When I was 12 I loved the Spice Girls. OK, maybe I was 13.
I remember listening to their music with my friends. We would each dress up as our favorite group member (I was always Scary Spice), and we would blast their music, singing, "Yo! I'll tell you what I want, what I really, really want." We knew who sang what and would point at each other when our Spice Girl's verse was on—we could only sing when it was our girl's turn. There was a dance routine too, which was mainly made up of a bunch of karatelike kicks and the peace sign to symbolize "girl power." Everything the Spice Girls did was cool. They dressed cool, they said cool things like "zig-a-zig-ah" and "spice up your life," and they "could sing really, really good!" They inspired me to go around telling 12-year-old boys, "If you wanna be my lover, you got to get with my friends." In hindsight, that is disturbing in more ways than one.
But who were these overly perky girl power chicks in tight leather pants, coaxing teenaged girls all across the globe into platform pumps?
I want to say "confused," because the only member with an actual spice for a name is Ginger. She also came up with the group's name, "Spice," during an intensive aerobics class. Which probably explains why the rest of the group's names are Baby, Sporty, Posh and Scary Spice.
Bob and Chris Herbert figured out how spicy the girls were back in 1993. The group's first stirrings of "girl power" kicked in when they began to disagree with Chris Herbert's managing techniques. The girls took the tracks and routines they had been working on and set out in search of new management. They found Simon Fuller, also the creator of American Idol, who helped the Spice Girls get a deal with Virgin Records. Soon after that, they shot the video for their first single, "Wannabe"—it was an instant hit in the U.K., and it made them the first biggest and fastest selling female group in U.K. music history. The Spice Girls crossed over to the United States in 1997, where they scored No. 1 singles and also sold 4 million copies of their first album.
Then someone (Simon Fuller) unfortunately came up with the idea for the movie, Spiceworld. I don't know if it was the over-the-top-butt-kicking-in-bright-colored-platform shoes or the acting, but the movie was painful to watch. And inevitably, just like any other group of five—the Jackson Five, the Temptations, the Backstreet Boys—things started going downhill from the chart-topping record sales and sold-out concerts. After the Spice Girls' second album in the United States, I sort of lost interest, and so did a lot of other people. But there was a short 15 minutes "When 2 became 1." Honestly, my Spice Girl moment was short and sweet. I remember selling their CD back to the store, because after a certain point it wasn't "cool" anymore to be a fan.
Ginger Spice was the first to officially leave the group after she conspicuously stopped showing up for performances. I don't know, but the idea of spending every single moment of every single day with people of the same sex might have had something to do with it. There weren't any known substance abuse issues or ego trips, but the Spice Girls soon decided it was best to head in their own separate directions.
I was ready too. I wasn't 12 (OK, 13) anymore. It was time to move on.
The Spice Girl era was over.
Or was it?
Over the summer, the Spice Girls announced their "Around the World" reunion tour. It sold out in the U.K. in .38 seconds, almost faster than my Internet connection. Not bad for a comeback. I was excited to hear the news, but it wasn't that big of a deal. It was just a childhood phase. Until I found out they are coming to the HP Pavilion in San Jose on Dec. 4. And one of my co-workers got me an extra ticket! I'm pumped!
It's time to dust off my Scary Spice outfit. I can't decide if I should wear a cheetah-printed corset or a neon-green jumpsuit? And I definitely need to brush up on my "Wannabe" lyrics. The Spice Girls came out when I was a teenager, so it will be interesting to see who their fan base is now. It's probably going to be an auditorium full of women in their late '20s wearing Spandex and pumps, rocking out in their own little "Spiceworld." So I'll make sure to bring my camera.
THE SPICE GIRLS perform on Tuesday (Dec. 4) at 7:30pm at HP Pavilion, 525 W. Santa Clara St, San Jose. Tickets are $69.50–$119.50. (408.998.TIXS)
Send a letter to the editor about this story.