11.28.07
home | metro silicon valley index | the arts | stage | review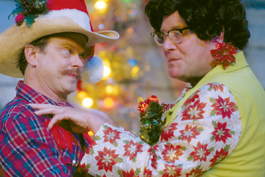 Photograph by Dave Lepori
PANHANDLE PAIR: Tim Hendrixson (left) and Kevin Blackton star in 'A Tuna Christmas.'
Hot Tuna
San Jose Stage Company improves on Texas talk in sequel 'A Tuna Christmas'
By Marianne Messina
ONE GENERALLY expects less from a sequel, but San Jose Stage's production of A Tuna Christmas, the sequel to last season's Greater Tuna, seems to benefit from having the introductions out of the way. The two OKKK radio jockeys, Arles Struvie (Tim Hendrixson) and Thurston Wheelis (Kevin Blackton), ease us into the tiny Texas town of Tuna by way of call-in listeners like used-gun-shop owner Didi Snavely (Hendrixson), and then it's straight to the Christmas Eve troubles of Bertha Bumiller (Blackton). Playing all 22 characters, Blackton and Hendrixson exit and return under endlessly clever pretexts for transitions between characters as smooth as a slug's behind.
OK, my meager redneckisms can't match what falls out of these folks' mouths: Didi (Hendrixson) promises tough old cane-wielding Aunt Pearl (Blackton) that a certain gun is ideal for blue jay shooting, "It'll blow the fuzz off a gnat's ass at 35 yards." The irate Pearl ends one memorable phone call, "I hope Santa craps down your chimney." Characters pour on the Podunk just as heavily as ever, but in A Tuna Christmas they are more sympathetic, and their stories more universal. Waiting on Christmas eve for her philandering husband to show up, Bertha Bumiller maintains her stoical, ornery edge while daring to pause for the occasional sigh or moment of wistful thinking, "Christmas used to be so special; now it's everyone for himself." Only the smut-busting Vera Carp (Hendrixson) seems to be an open target. Busily expurgating Christmas carols, Vera insists, "I'm not comfortable singing about virgins" after Bertha clarifies that the "Silent Night" lyric is not "round young virgins."
The Stage opens the second act with a lively introduction of two new characters, young Tastee Kreme waitresses Helen (Hendrixson) and Inita (Blackton as a cheerleader type in a flaming bush of red hair). Costume designer Eileen Barnes has gone over the top and around the corner to dress these ladies like coat racks at a holiday yard sale. They're all dripping glitter and wearing weapon-size Christmas corsages with sharp plastic poinsettia spears. Gaudy poinsettias flop from atop Bertha Bumiller's red slippers and decorate her blouse (under a lime-green vest).
Director Randall King helps the casual set design, a Formica kitchen table before the "Welcome to Tuna" wall, by defining each household by its Christmas tree. A cat-burglar stagehand switches out the trees, scraggly to opulent to bald scrub brush (not to mention Didi's tree, all adangle with hand grenades). Don't let the shuffling old-lady footfall and slow drawls mask these two actors' incredible timing, not just in terms of quick clothing/personality changes, but in terms of their comfortable, natural interactions. A Tuna Christmas churns out nonstop laughter even with its warmer ending and its minimized cruelty to animals. Whether it's due to Christmas spirit or the maturity of the authors, who claimed in an interview that "we've gotten as old as our characters," the one-day sagas of these Tuna town folk end with a little cockle-warming here and a little closure there.
A TUNA CHRISTMAS, a San Jose Stage Company production, plays Wednesday–Thursday, 7:30pm, Friday–Saturday, 8pm and Sun, 2pm through Dec. 23 (no show Nov. 22) at The Stage, 490 S. First St., San Jose. Tickets are $20–$45. (408.283.7142)
Send a letter to the editor about this story.