November 29-December 5, 2006
home | metro silicon valley index | columns | silicon alleys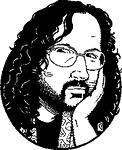 Silicon Alleys
This Year, Give the Best
By Gary Singh
ALLOW ME to furnish some belated thanks now that the turkey day has passed us. George Best, one of the greatest footballers in human history, left this earth a year ago last Saturday. After a way-too-short career in Europe, the Northern Ireland native wound up with the San Jose Earthquakes during the 1980 and 1981 seasons. He died last year on the day after Thanksgiving, and on that fateful morning I stormed into the office and cranked out a last-minute obituary.
Since Metro's gift guide issue this year has a sports theme, I will recommend a trilogy of books that Best himself authored, all ghost writers aside: Blessed, his autobiography; Scoring at Halftime, where he recounts decades of humorous off-the-field adventures; and last year's Hard Tackles and Dirty Baths, his memories from the glory days of the '60s and '70s. Those books are hard to find in the States and that last one I picked up while killing time at London's Heathrow Airport a few weeks ago.
Best's son, Calum, was born at Good Samaritan Hospital while Best played for the Earthquakes and, along with the greatest goal of his career, Calum's birth was one of the few good memories of Best's stint here. Given Best's constant falling off the wagon, his then-wife Angie famously recalled the sequence of events that led to her to leave him: "Calum was a year old, I hadn't seen George for a week, and I was taking Calum to the doctor for a checkup. I'm driving down the street in San Jose, it's raining—a really miserable day—and in the middle of the street, between the two yellow lines, there's this creature walking towards me, soaking wet, miserable, huddled over like a homeless person, and I realized it was my husband. I looked at my son and thought: I can't do this anymore. I can't look after two babies. The big one has to go. And he did."
Now, as I finish this missive on the day after Thanksgiving 2006, I must give thanks to Bestie for all the memories, especially that great goal in May of 1981 when he went past five defenders in 25 yards all by himself.
I was not the only one inspired by that performance, you see. A young girl named Brandi Chastain played in the kids' game during halftime at that match and scored a goal herself. Listening to the crowds cheer afterward, along with witnessing Best drive home that now legendary goal, is what cemented her decision to devote her life to soccer.
"When I started playing soccer, I had no role models to inspire me on the field," she wrote in her book, It's Not About the Bra. "No one in my neighborhood, or in my family, played the game. But the very first time I saw the professional team that would become my guiding light, the San Jose Earthquakes, I found my role model. He was George Best, and in my mind, the name fit. Watching him corkscrew bewildered defenders into the ground with his amazing moves and a smile on his face, I said to myself, That's what I want to do." Anyway, back in the '60s, Best vaulted to worldwide stardom as a teenager and, according to Phil Hughes, his manager, Best was never allowed to own his own life ever since. He was constantly thrashing it out with pesky, irritating reporters who hounded him. Whenever he got into a barroom brawl, the media were right there looking for stupid sensational material to feed on. In Scoring at Halftime, Best recalls a holiday in Cyprus where he became ill, only to have reporters track him down in his hotel room. They wanted to hear that he'd fallen off the wagon again or, even better, if he was dying. They just weren't satisfied that he had a simple virus. The hospital administrator then showed up and told him the reporters wanted to know if he was HIV-positive. Best said, "Tell them, yes, I am HIV—heavily into vodka. That'll shut them up."
There you have it. Why Best isn't in the San Jose Sports Hall of Fame, I'll never know.
Contact Gary Singh or send a letter to the editor about this story.