November 29-December 5, 2006
home | metro silicon valley index | the arts | stage | review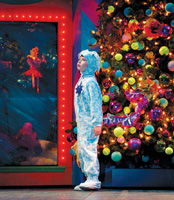 PJ power: A boy wakes to a 'Christmas Dreamland.'
Sparkle Plenty
The costumes and sets fill the stage with delights at AMTSJ's 'Christmas Dreamland'
By Marianne Messina
AMERICAN MUSICAL Theatre of San Jose's world premiere of Christmas Dreamland should be rated "no one over 21 admitted unless accompanied by a child." In this musical revue, a little boy goes to bed in his feet pajamas and bunny ears and dreams of, well, more tap-dancing, snow-falling, sequins sparkling and Christmas caroling than a TV season of Christmas specials. (At the opener, bright and hammy Julian Hornik could belt out a song; he alternates with Gabriel Hoffman).
Led by a Star Chaser (Elizabeth Palmer) in her flouncy layers of sparkle, the boy, part little Nemo, part Nutcracker's Clara, watches, dances or sings along with the Silver Belle tap-dance crew in colorful kid-friendly scenery—the major theme is purple, aqua and blue, often dashed with a touch of orange. Many numbers in this ambitious show come with elaborate setup and machinery and quite probably the ordered backstage chaos of a Cirque du Soleil. Tap-dancers go out, bop dancers come in, followed by more tap-dancers; a whole village comes up; trees light up; hoop dresses light up. Julian's bed rises and floats away (with him in it); all manner of props and light patterns blink, rise and twirl at the stroke of a magic wand.
On top of technical feats, the spectacular, spare-no-sparkle costumes must number well over a hundred (designed by Thomas G. Marquez): white chiffon gowns, gem studded and feather trimmed, mile-high head pieces and silver high heels, white tuxedos; a jingle bell jacket and a mermaid's (Gayle Holsman) gown that is shimmery sea green, dotted with crimson flowers, body tight to the ankles where it fans out into a sort of tail fin. Visually, this show is a royal banquet from the days when a king could eat himself to death.
Needless to say, such a comprehensive production doesn't come without its glitches. At this opening show, the Heritage Theatre's smoke alarm went off (presumably encouraged by the stage fog), and everyone had to file outside until the Campbell Fire Department came and gave the all clear. (If only it snowed!) Back in Dreamland, each familiar carol was a unique, often sensational, concept come to life. In "Pop!" Julian dances under black light with bits of iridescent, midair popcorn as his one-piece PJs glow.
The ideas go from hilarious, like the dance of the pine cones, to lively and surprising, as in "The Twelve Days of Christmas." Each day's gift is hidden behind a window shutter that pops open to reveal some surprising embodiment of turtle doves and calling birds, each punier than the last. As Julian turns the pages of a book bigger than he is, he conducts the chorus of opening doors with the help of the Star Chaser. When it got to 12 clattering shutters with their pop-out comics, applause erupted.
Musical director Dolores Duran-Cefalu has created some playfully sophisticated arrangements for familiar carols, often skewing them or melding them with everything from Nutcracker melodies to old jazz tunes to Sesame Street songs. The performers are quadruple threats at the very least, tap-dancing, singing, bell ringing, puppeteering through song-and-dance numbers from across the eras (choreographed by co-creator Troy Rintala with Hector Quintana).
It's great to see this kind of energy from the AMTSJ creative team. The company has given San Jose something magical and sweet, not too syrupy; funny-silly, not too corny—but, did I say bring children? For anyone who's seen a few too many Christmas specials, it's a must-do. Bring the neighbor's kids and your kids' school friends, too. The Star Chaser has a whole silent clown sequence for which she brings up a child from the audience (at this show she did manage to find a tiny cutie from among the sparsely scattered children), and a clown without a volunteer is a sorry thing.
Christmas Dreamland, an American Musical Theatre of San Jose presentation, plays Tuesday-Thursday at 2 and/or 7pm, Friday at 8pm, Saturday at 2 and 8pm and Sunday at 1 and 6:30pm (1pm only Dec. 24) through Dec. 24 at the Heritage Theatre, 1 W. Campbell Ave., Campbell. Tickets are $48-$73. (1.888.455.SHOW)
Send a letter to the editor about this story.