November 29-December 5, 2006
home | metro silicon valley index | the arts | stage | review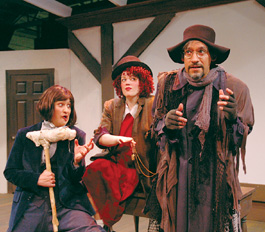 Jeanine Brown Photography
Steal away: Kirk Pierron (left), Robyn Winslow and Rich Miller play Faginesque pickpockets in 'A Christmas Twist.'
Twisted Slyways
City Lights ties Charles Dickens up in knots for holiday comedy 'A Christmas Twist'
By Marianne Messina
MANY A SPOOF has turned the joke on the company that plays it. Thankfully, City Lights Theater Company's production of A Christmas Twist deftly separates the dreck from the clever comedy. Conflating and spoofing the Dickens classics A Christmas Carol and Oliver Twist, the play goes sparingly on the witless buffoonery and adds enough taste to balance out the tastelessness written into the script—for example, Mr. Bumble's metaphors: "More gruesome than a leper nudist colony." Well, except that having recently watched those painful Michael J. Fox interviews, I found Kirk Pierron's Tiny Twist a little too pitiful to hit my funny bone. But director Will Huddleston has offset minor offences by letting some characters be people as well as pranksters and by mining the humor with a twinkle in the eye instead of a big guffaw.
As the story goes, Tiny Twist (a "twenty ... ish" "gargantuan boy" with a twisted leg) escapes from Fagin's dodgy brat pack and ends up at Bob Cratchit's house—with a price on his head. Only a redeemed Scrooge can save him. The seasoned Huddleston lets this play ebb and flow between laughter and enchantment. He retains the British accents, the 19th-century clothing (mostly) and enough of the period dÈcor to keep the captivating bits of the Christmas Carol story intact—such as the arrival of the ghosts.
Ron Gasparinetti's dark, modest set includes a scrim back wall that provides shadow shows of dastardly deeds and lurking ghosts. Changed by the occasional old wood table, desk or bed, the bare set nicely accounts for Fagin's and Cratchit's poverty and Scrooge's parsimony. In anticipation of the ghosts, Scrooge traipses around on the dark, wide-board floor of his room in dressing gown and long johns (oh, and the floppy bed cap), sits at a small wood stove (so cold it's being used for a table) and eats from a wooden bowl by a single candle in a brass holder. Then in blasts the Ghost of Christmas Past (Katie Anderson), hailing Scrooge like the famous scene from Angels in America, talking like the Good Witch of the North and traveling like the Flying Nun meets Superman.
While the play makes Scrooge slightly inept, Charles McKeithan's tall, lean Scrooge, like many a real-life cynic, seems smugly pleased with his own nastiness. Whether at his mean pinnacle or on his repentant fall, McKeithan's Scrooge is so engaging and fun to watch you can forgive occasional overshouting. Likewise, Rich Miller gives us a three-dimensional Fagin. With the perfect rat-scratching fingers in his fingerless gloves, Miller plays Fagin cagey and observant, someone always reading the situation and calculating the implications before he acts. As a result, we're never quite sure he's going to be the heartless mercenary we know he is. Robyn Winslow shows her versatility in this production as the Scottish beard-munching Ghost of Christmas Present (so amusing), Orphan Annie and other parts. With ever a touch of humor around the eyes, Ron Talbot's Cratchit seems to find Scrooge amusing even though he cowers like the best of Cratchits.
Huddleston also controls the tone of this play with the music. As sound designer, he sometimes calls up a movie or TV theme to derail a traditional character and spin them in another direction. Other times, the music is just twisted, like blending an organ version of "Joy to the World" into a trumpet version of Vivaldi's Four Seasons. This comedy feels wily and sly as well as funny. Referencing everything from The Wizard of Oz to Shakespeare, it creates a delightful anticipation for the wicked context that might befall each tried and true line, right up to the big banger, "God bless us every one."
A Christmas Twist, a City Lights Theater Company production, plays Thursday-Saturday at 8pm, Sunday at 2pm (Dec. 10 and 17 and 7pm (Dec. 3) and Wednesday (Dec. 20) at 8pm through Dec. 22 at City Lights, 529 S. Second St., San Jose. Tickets are $20-$35. (408.295.4200)
Send a letter to the editor about this story.