November 29-December 5, 2006
home | metro silicon valley index | music & nightlife | profile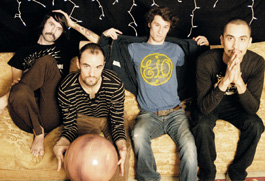 Back from the dead: After a tragic accident, Day One Symphony has the balls to keep going.
Day One Symphony
A brush with death; a triumphant return
By Ryan Osterbeck
ONE OF THE MOST TALENTED BANDS to come out of San Jose, Day One Symphony plays a triumphant homecoming show this Saturday night at the Blank. Day One Symphony—tight, melodic and ambient alt-rock experimentalists—is also an extremely fortunate band and group of individuals. Their unique ambient rock sounds recently followed the path of their real journey through an ordeal with the potential to make or break lifelong bonds.
"It's tough to really gauge what the effects have been on the music," explains Day One Symphony guitarist and vocalist David Knight, speaking of course about the near fatal accident that he, bassist Jimi Bartlett, drummer Steve Barry and guitarist/ keyboardist Danny Hellevig were involved in earlier this year. Now their subsequent healing process is over and the return that fans of this local aural powerhouse have been anxiously awaiting has arrived.
Without delving too much into the particulars of the accident, it's enough to say their car was mangled and all four members of the band were in a bad way. It's a testament to their dedication, ambition and passion as musicians that they've kept going.
"I think it kinda steeled our resolve though, to be a band," explains Barry. "We all survived for some purpose."
Knight goes further: "We had to cut through a lot of shit when we got back to the studio and started writing again," says Knight. "I definitely feel the accident has cut away a ton of bullshit from our writing process."
And that process has taken hold. Day One Symphony has always played highly technical, ambient rock that was aurally filled with a distinct, yet hopeful cynicism, dark overtones and relevant melancholy. Their newest EP, AVISCIOUSCIRCLE, is vital not just for the melodic and soulful depth, but its technological savvy, as it was also packed with loads of enhanced extras. Their new material continues along the same track both musically and electronically.
Knight delves deeper into Day One Symphony's new material, "I want it to have all sorts of nooks and crannies and trapdoors and some of that intense cynicism, but also that spirit of how we recovered and came back. ... I feel that's really in the music and in the lyrics."
The band hails this show at the Blank as a reinsertion into their life's passion. Day One Symphony played at show on Nov. 18 at Bottom of the Hill in San Francisco that was their first run on stage since the accident, but many in the local scene, longtime fans and the guys themselves, see this Saturday's show as their true return.
"Yeah, we're way stoked on the show, that's like our home base, that venue," says DOS nearly in unison.
Even though it's been nearly 10 months since Day One Symphony has graced a stage in Downtown, the buzz surrounding the band's return is a roiling frenzy played out in cyberspace, which is fittingly comfortable to anyone that knows DOS' affinity for electronic forums. On Internet message boards, on Myspace pages, the reinsertion of DOS taking their rightful place at the forefront of local experimental ambient rock has become, not at all surprisingly, a force unto itself.
Day One Symphony, with Audrye Sessions and Ambience opening, plays Saturday (Dec. 2) at 9pm at the Blank Club, 44 S. Almaden Ave., San Jose; $10. (408.29.BLANK)
Send a letter to the editor about this story.