November 29-December 5, 2006
home | metro silicon valley index | silicon valley restaurants | review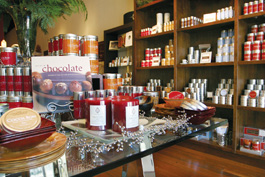 Photograph by Felipe Buitrago
Sweet truth: Los Gatos' Cocoa Bon Fine features delicious, pure chocolate treats.
Great Taste In Gifts
Holiday cheer plus bacon. Yummers!
By Stett Holbrook
This time, things are going to be different. Every year I bemoan the hollow commercialism of the holidays and yet I always seem to find myself at some falsely cheery mall on Christmas Eve, frantically picking through the half-empty shelves to find something, anything, that will pass as a gift. As I stand at the cash register, thumbing through my wallet for a credit card with an available balance while I hear Burl Ives singing "Frosty the Snowman" for the 1,000th time, I curse under my breath and tell myself I won't let this happen again. And yet a year later, I'm at it again, standing in line with all the other last-minute-shopping suckers with an armful of crap that I need to gift-wrap in a hurry. It's a vicious cycle.
But this year I'm not letting myself get dragged down Santa Claus Lane. I'm taking control. Instead of procrastinating and buying gifts no one wants, this year I'm shopping early. And instead of buying ugly sweaters and barbecue tools for my family, I'm giving the gift of food. And the best part about it is I won't have to go the mall. Everybody wins.
In my travels around Silicon Valley, I'm always on the lookout for unique and delicious food—restaurants, stores and products that have stories to tell and that have a sense of place. Here's what I've found and what I plan to give this year.
Cocoa Bon Fine
Cocoa Bon Fine Chocolates began as a home-based business and recently opened a good-looking storefront in Los Gatos this past August after closing its Valley Fair store. Made from recipes of their own creation, Cocoa Bon's flavored chocolates are roughly the size of a peanut M&M and come in a growing number of flavors like dark chocolate gingersnap, chocolate mint and almond chocolate toffee. Cocoa Bon also makes delicious, pure chocolate wafers made with 58 percent, 61 percent or 72 percent cacao. Cacao is what makes chocolate chocolate, and in my opinion more is better. The tin of 72 percent cacao chocolates is rich, bittersweet and spicy.
The chocolate chews and wafers at Cocoa Bon are not only delicious, they come in great looking tins that make them perfect for gift giving. At $4 a pop, giving just one 2.4-ounce tin is too stingy, but spring for six or so and you've got a legitimate gift to give. Larger sizes are available, too.
Andy's Orchard
Andy's Orchard is arguably the premier rare fruit grower in the county. Owner Andy Mariani grows hundreds of varieties of cherry, peach, plum, nectarine, apricot and other stone fruits on 28 acres just west of the Anderson Reservoir. The best time of year to visit is the summer. That's when his myriad varieties of rare stone fruit are ripe for the picking.
But the second best time to make the trip down to Morgan Hill is right now. Andy's sells many of his fruit in dried form. The chocolate-dipped Blenheim apricots are great, but for me the specialty of the house is the sugarplums. Even though I've heard mention of sugarplums innumerable times in "The Night Before Christmas," I never stopped to think about them as an actual food product. But before the rise of mass-produced candy, the sugarplum was a coveted seasonal American sweet.
Essentially a stuffed prune, Andy's sugar plums are made with dried apricots, walnuts, almonds, lemon juice and honey. Packed into ornate half- and 1-pound wooden gift boxes, the sugarplums are only available in November and December.
Dittmer's
I'm temped to do all my Christmas shopping at Dittmer's Gourmet Meats & Wurst House. The Mountain View butcher shop and sausage maker is one of the few remaining specialty butcher shops in the Bay Area. Dittmer smokes his own bacon, cures his own ham and makes his own sausage. Sausage, both uncooked and cooked, is the specialty of the house. If you're going to be giving sausage, it's best to give the cooked variety. It keeps better in a gift box. (Keep it refrigerated right up until you hand it to the lucky recipient.) Check out the double-smoked paprika sausage. It's like snapping into a really, really good Slim Jim.
Dittmer's thick and smoky bacon is another surefire gift. I know if someone gave me bacon for Christmas I'd be eternally grateful and probably rush into the kitchen right away to cook a few strips. I hope the recipients of my gift-wrapped bacon feel the same.
I've got my shopping list. No more malls. No more bad gifts. Just good food. For once, it's beginning to feel a lot like Christmas.
---
Cocoa Bon Fine Chocolates
Address: 78 W. Main St., Los Gatos.
Phone: 408.354.5900.
Andy's Orchard
Address: 615 Half Road, Morgan Hill.
Phone: 408.782.7600.
Dittmer's Gourmet Meats & Wurst House
Address: 400 San Antonio Road, Mountain View.
Phone: 650.941.3800.
Send a letter to the editor about this story.