November 29-December 5, 2006
home | metro silicon valley index | the arts | books | review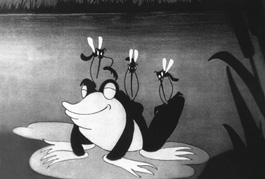 Froggy: Some of Disney's Silly Symphonies cartoons show Dec. 2 at the Castro Theatre in San Francisco.
The Mouse King
A new biography and screenings of early cartoons display the artistic and business innovations of Walt Disney
By Richard von Busack
IT'S déjà vu all over again for those who cherish the legend of the Silicon Valley. Neal Gabler's shoulder-dislocating new biography, Walt Disney: The Triumph of the American Imagination, mirrors local stories of high hopes, hard work and disenchantment.
On the eve of World War II, Disney's studio presented a microcosm of what was to come 50 years later in Northern California. Like so many high-tech plants during the first boom here, Disney emphasized lateral thinking and casual clothes—no time clock, but the understood convention that no one left at 5pm.
Under Disney, there were extracurricular activities that had vague bearing on the product at hand. Employees listened to academic lectures on the topic of humor and life-drawing classes (Disney spent $100,000 a year on the latter). Eventually came the perfect, ergonomically excellent studio campus in Burbank, complete with a roof for nude sunbathing. There, as in the valley's pioneering days, existed the combination of micromanagement and obsession. "Disney was the final editor of every damned scene," recalled a cartoonist.
There was, finally, what Gabler calls a cult. As was the case for many a high-tech guru, Disney got nicknamed "God" by his employees. Though Disney could "neither animate, nor write, nor direct," says Gabler, he could envision, and he could act; he could pantomime the scripts he wanted written. He was good enough at acting to bring some of his animators to tears. Years later, playing the avuncular Walt Disney on his long-running TV show, Disney was an even more effective actor.
Technically speaking, Disney's studio always managed to stay at least five years ahead of his time, though it was usually more like 10 years. But technical perfection isn't everything. If you've chafed through the squeaky cuteness of Disney features, it is instructive to see how peppery Disney's cartoons were at the beginning.
The four-DVD set Walt Disney Treasures: Mickey Mouse in Black and White explains at last what people saw in Mickey Mouse in the 1930s. And a program of Silly Symphonies, playing at a special edition of the San Francisco Silent Film Festival on Dec. 2 at the Castro Theatre in San Francisco, cements the point. (Afterward, Gabler, ace Disney animator Ub Iwerks' granddaughter Leslie and Disney expert Jere Guldin will take part in a discussion.)
Remembering Mickey as a well-behaved, dapper nonentity, it's a surprise to see his younger incarnation. About 1933, Mickey was the most popular animated figure in the world; Mickey Mouse Club membership during the peak of the Depression ranged in the millions, and he was celebrated by intellectuals as well as by the movie-going public.
The pre-color mouse was also pre-Code. His adventures contain a trove of spat tobacco juice and underwear gags. Minnie's patched bloomers turn up in almost every film, sometimes on clotheslines and flagpoles. Disney's animators loved hauling out old-fashioned corsets with flapping suspender clasps. In these cartoons, we find plenty of high-octane mayhem, fit for kids who always preferred Bugs and Daffy to Mickey and Donald.
Consider The Wayward Canary (1932), in which a flock of baby birds take a bath in spilled ink and wreck Minnie's house. They innocently deface autographed pictures of Douglas Fairbanks and Mary Pickford (this was the animators' typically cheeky way of saying howdy to these stars, who were great fans of the Mouse). Its finale is a bird/cat/dog chase very much up to Looney Tunes standards, culminating with Mickey getting crowned with a chamber pot.
Playful Pluto (1934) boasts a well-remembered finale, quoted in Preston Sturges' Sullivan's Travels. Pluto is a very doggy dog, not the customary human in a dog suit that turns up in cartoons from Peanuts to Family Guy. Mickey's dog gets stuck a dozen different ways on a piece of adhesive flypaper. That's a famous gag, but the run-up is just as keen. Pluto's doggy nature—engagingly captured by the animators—leads him to gobble up a flashlight and chomp his way into a garden hose.
The Silly Symphonies program at the Castro Theatre also features some surprisingly tangy cartoons, rivaling the urban craziness of the Fleischer Brothers' Popeye and Betty Boop. A good point of comparison is the Disney/Ub Iwerks 1929 short Hells' Bells, in which a cartoon imp unthrones Lucifer. It would be worth running this cartoon back to back with Betty Boop's trip to hell in 1934''s Red Hot Momma (where, just to confuse matters, B.B. belts out a song called "Hell's Bells").
Disney's taste in music was never as eclectic as Betty Boop's. "I don't like ... too much Oh De Oh Do," said Walt, referring to the Cab Calloway moan in such Boop-toons as 1933's The Old Man of the Mountain. But Disney cultivated the best composer of music in animation, a former Kansas City theater organist named Carl Stalling.
Stalling's idea (as reported by Gabler) was to create cartoons that were music first and images later, a decade before Disney's Fantasia. The Tim Burtonesque Skeleton Dance (1929) unfolds to a Stalling composition taken from Grieg and Borodin; it's a goth's pleasure, a graveyard stomp that leads to a animated bonepile cha-cha-ing back to the grave.
The chronologically last of the "Silly Symphonies" event at the Castro is 1935's Melody Land. Though he's not credited, the composer can be none other than Stalling; we hear the smashing crescendos and keyboard stings so familiar from the decades of accompaniment Stalling did for the misadventures of Daffy and Bugs.
Melody Land is the gorgeously colored story of a war between an island of living classical musical instruments. Its jazz-loving rival island is ruled by a tuba king (modeled on the obese bandleader Paul Whiteman). The leap in animation in only six years, between Skeleton Dance and Melody Land, is so astonishing that it can only be compared to the rapid advance of the personal computer.
Between 1935 and the beginning of World War II was Disney's classic era: Snow White and the Seven Dwarfs, of course, and Bambi and Pinocchio—the products of a studio that bore signs on its walls reading "Does your drawing have weight, depth and balance?" Disney's innovation left behind essential tools for animation: the pencil test, the storyboard, the multiplane camera and less-remembered innovations like Xeroxography and an early form of surround-sound.
Gabler's monumental bio depicts a beleaguered, lonely life. Disney was an intervention-proof workaholic, who worried himself into at least one nervous breakdown. His wife once described herself as "a mouse widow." At the end of the road, just before his lifelong chain-smoking killed him, Disney was a solitary drinker plagued with nervous and physical maladies.
Gabler theorizes that Disney worried so much because of his background. He had a family history of uncertainty and frequent uprooting. Though he idealized farmyards to the point of folly, Disney spent just as much time in Chicago and Kansas City.
Despite poverty, "Disney never tried to make money," insists Disney animator Ward Kimball. Disney's emphasis on perfection in a field known for fast, cheap and disposable work kept his studio in uncertain financial straights. A bust waited past every boom. If today's Disney product is often known for shoddy illustrated radio productions for undiscerning kids, partially it's because the current execs learned from Disney's business career. After a rancorous labor strike, Disney became less interested in film production and more in a series of imaginary realms, including the creation of Disneyland.
The animator Chuck Jones' comparison of Disney to D.W. Griffith is telling: Griffith's name doesn't just mean a film pioneer, it also implies a film pioneer who was bypassed by the future of his industry. Jones' outfit, the so-called "Termite Terrace" cartoonists, surpassed Disney in momentum, humor and innovation—in everything but surface beauty.
As Termite Terrace animator-turned-director Frank Tashlin commented, the creators of Bugs and Daffy showed Disney that "animation didn't have to look like a fucking kid's book." Later in the 1950s, Disney vets took up avant-garde colors and creative use of story, sound and negative space at the UPA studios. And Disney had the foresight to see television coming and was smart enough to keep the rights to his cartoons. But he never figured out how to feed TV, the way his rivals did at Hanna-Barbera.
Walt Disney followed the lead of many a valley titan right up to the end; he ended as a relic in the realm he created. Gabler suggests that Disney dreamed of total control, and he shifted this idea from animation to the creation of Disneyland. Southern California adolescents always referred to Disneyland as "The Magic Dictatorship" because of the way real life was locked out of its walls.
Gabler describes Disney as pioneering a counterculture—because of Disney-fed kids growing up to Imagineer a revolution, one supposes. It's possible that Gabler is forgetting a few details: the Yippie takeover of Disneyland, for instance, or the travails of the Air Pirates cartoonists, sued by Disney's lawyers for satirizing the Mouse.
Disney's true fantasyland was identical to the local high-tech dream, at its most untethered to history and reality. The dream, that is, of labor without friction, and what Disney once called "Jesus Christ Communism"—complete obedience to benign paternalism. Such was Walt Disney Studio as Disney saw it, in the golden time right before the war.
The cartoons survive, but Disney's vision disintegrated in the face of facts, just like so many other business utopias, pitched in so many Santa Clara County campuses and light-industrial parks.

The San Francisco Silent Film Festival screens Silly Symphonies at 1:30pm and the 1927 version of Chicago at 7:30pm on Saturday (Dec. 2) at the Castro Theatre in San Francisco; see www.silentfilm.org for details or call 800.838.3006. Walt Disney: The Triumph of the American Imagination by Neal Gabler; Knopf; 856 pages; $35.
Send a letter to the editor about this story.