November 29-December 5, 2006
home | metro silicon valley index | movies | current reviews | film review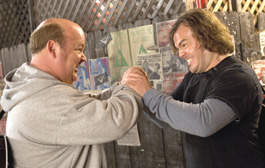 Photograph by Jade Rosenthal
Rock royalty: Jack Black and Kyle Gass pursue their dream of the ultimate open-mic night in 'Tenacious D: The Pick of Destiny.'
D-Licious
Tenacious D's movie is a pipe dream for fans
By Steve Palopoli
SOME ROCK CRITICS accused Tenacious D of "selling out" on its 2001 debut record. I can't really remember why, it was something about how it used to be a band that made fun of rock by pretending to rock, and then turned into a band that actually rocked. Whatever it was the critics said, it was pretty stupid, since Tenacious D has always made fun of rock while actually rocking—and not rocking you half the time, like bands whose singers waste time breathing in, but constantly rocking you thanks to their invention of inward singing. The truth is that Tenacious D fans loved the record, and they'll also dig the movie, Tenacious D: The Pick of Destiny. Here are 10 reasons The Pick of Destiny truly captures the spirit of the D:
(1) Jack Black coins a new swear, "fuck-a-luck-a-ding-dong." Tenacious D has the best swears.
(2) This is what happens in the beginning: a parody of the "THX sound" commercials for "THC" reminds us that "the audience is baking": we travel back in time to Kickapoo, Mo., where a young Jack Black is told by Meat Loaf (playing his dad) that "you gotta praise the Lord when you're in my house"; Dio jumps out of a poster and sings to Young JB, telling him to go to Hollywood; Young JB runs away and goes to towns named Hollywood in all the wrong states; by the time he gets to Los Angeles, he's full-grown Jack Black; then we go into a title sequence featuring animated Tarot cards. That's just, like, the opening five minutes.
(3) For the first 20 minutes or so, and for the first time in any Tenacious D bit (except maybe that old live short film where Jack unknowingly gives him a blowjob in a car), Kyle Gass has the upper hand. Go Kage!
(3) When they get to the part in Tenacious D's "history" where the band plays its first open-mic night, director Liam Lynch practically re-creates the scene from the HBO show where they play "History of Tenacious D."
(4) "History of Tenacious D" is the only song that isn't new.
(5) Paul F. Tomkins gets to introduce them with his "the next band asked me to read this" bit, and he has a huge part in the finale. Go Paul F. Tomkins!
(6) When Jack imagines "huge success," he fantasizes not about playing some massive arena or the Apollo or something but about making heads explode at open-mic night.
(7) Lee. Lots of Lee. Go Lee!
(8) The D perform a rock block of Bach that's different from—but as funny as—the one on the record.
(9) The return of Cock Pushups.
(10) Best Sasquatch gag ever.
So that's why fans will like it—what will the uninitiated think? I really have no idea. They probably won't even go. But if they do, they might like the fact that the plot about "the pick of destiny," which could have been pretty stupid, is clever. The requisite cameos are also nicely done. They might find the whole thing a little long and uneven. But if they don't think this is Jack Black's funniest performance ever, I don't know what to tell them.

Tenacious D: The Pick of Destiny (R; 93 min.), directed by Liam Lynch, written by Jack Black, Kyle Gass and Lynch, photographed by Robert Brinkmann and starring Black and Gass, plays valleywide.
Send a letter to the editor about this story.