November 29-December 5, 2006
home | metro silicon valley index | columns | silicon veggie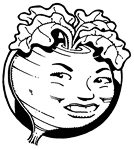 Silicon Veggie
Metro Readers Recommend: Part 1
By Elisa Camahort
THIS MONTH, I'm going to share some of the restaurants that local vegans rely on. Most feature Asian cuisine and are dotted across the South Bay. Multiple recommendations came in for downtown restaurants Good Karma, Tofoo Com Chay, Vegetarian House and White Lotus. Many recommendations also came in for Great VegiLand in Sunnyvale and Falafel Drive-in in San Jose. Some people told me about Garden Fresh, which I've written about many times, but no one, surprisingly, mentioned Lu Lai Garden at McCarthy Ranch in Milpitas, which features an immense vegetarian menu.
Metro readers Peter and Amy recommended White Lotus. Sweet and sour "pork" is my control dish—the one I order everywhere and compare to my favorite vegan restaurant, Garden Fresh. White Lotus has a different approach, making it not out of soy or wheat gluten but wrapping pieces of white tofu in the batter and serving it with the sauce. They go for the flavor of the dish but don't try to approximate the texture. It was definitely tasty, although there was an unexpected lack of resistance when biting into the tofu pieces. One true White Lotus achievement: cooking eggplant in a way that is palatable, even to those of us who find the texture off-putting. There are not many places I'd order eggplant, but I might order theirs again.
Metro readers Matt and Bob both refer to Great VegiLand in Sunnyvale as not only a good restaurant but one where they feel the owner is a friend. Unfortunately, on the day I went, their friend was having a staffing problem. She was forced to be both waiter and chef during the lunch rush, and it was clearly stressful. When I finally got my sweet and sour pork it was ample and served with yummy, crunchy brown rice, but a little tough and chewy.
I know, I sound like Goldilocks. This one's too soft; this one's too chewy.
I was surprised at the number of recommendations I got, including from readers Nick and Steve, for a nonvegetarian restaurant, Falafel Drive-in in San Jose. Granted, many of the staples of Mediterranean cuisine are vegetarian to begin with, but readers appreciate that Falafel proudly wears its "We serve vegetarian meals" sticker in the window (and on the website) making vegetarians feel unusually welcome at this "fast-food" restaurant.
Sad to say, but the No. 1 recommendation I received closed last month. Bay Leaf Café in Palo Alto was open for less than four years, even though it was the site of monthly dinners for local vegetarian groups. Which should serve as a warning to us all: frequent your favorite vegan restaurants, recommend them to even your nonveg friends, lest they disappear and leave us in a carnivorous wasteland!
Falafel Drive-In: 2301 Stevens Creek Blvd., San Jose; 498.294.7886
Garden Fresh: 1245 W. El Camino Real, Mountain View; 650.961.7795
Good Karma: 37 S. First St. (at Santa Clara), San Jose; 408.294.2694
Great VegiLand: 562 S. Murphy Ave., Sunnyvale; 408.735.8040
Lu Lai Garden: 210 Barber Court, Milpitas; 408.526.9888
Tofoo Com Chay: 388 E. Santa Clara St., San Jose; 408.286.6335
Vegetarian House: 520 E. Santa Clara St., San Jose ; 408.282.3798
White Lotus: 80 N. Market St., San Jose; 408.977.0540
Send a letter to the editor about this story.