12.03.08
home | metro silicon valley index | columns | silicon alleys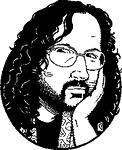 Silicon Alleys
Rebel Revisited
By Gary Singh
SINCE there just aren't enough documentaries about 19th-century Mexican banditos who were hung in San Jose, resident author and publisher Charlie Trujillo decided to begin making one. The scalawag under discussion is every local historian's favorite forgotten troublemaker, Tiburcio Vasquez, who rampaged across California during the post–Gold Rush era.
The story of Vasquez is no mere legend. Born in Monterey, Mexico, in 1835, he plied his trade by robbing, rustling and brutalizing everything in his way. As soon as California was ceded to the gringos after the Mexican-American War, his dream was to take it back, and he traveled throughout the land stealing gold, acquiring ammunition and recruiting anyone who would go with him. Revolution was the goal, and historians claim that if Vasquez had just raised more money he might have come close to succeeding. Also known as a legendary ladies' man, he had lovers waiting for him just about everywhere he went. Eventually, he was caught for a murder he may or may not have committed during a bloody armed robbery in Tres Pinos and was then dragged to the old San Jose jail yard, where he was hung on March 19, 1875. When the executioner asked him for a final statement, he said, "Pronto!" And the deed was done. The gringos cheered while legions of senoritas mourned.
Vasquez's story represents a variety of things to a variety of people, especially those of Mexican descent. During a time when Mexicans, as well as Chinese, were being lynched across the board, Vasquez is seen by many as a true freedom fighter, one who battled for social justice and the rights of Mexicans who were deprived of their land and property following the war. To them, he was a hero at heart who just went too far. Vasquez's gravesite still sits in the Santa Clara Mission Cemetery, and the now-famous findagrave.com website lists a few anonymous dedications, one of which says this: "You were a man seized by hatred which was understandable. A foreign army seized your property, and your nation abandoned you. You were a rebel with a cause. The cause of dignity, which is universal. You loved more than you ever hated, and your downfall was not knowing when to quit, and realize that the folly is with the people. God bless."
Trujillo himself has quite a story. A Chicano from the rural town of Corcoran, Calif., Trujillo penned the 1991 American Book Award–winning, Soldados: Chicanos in Viet Nam, in which he documented several stories of migrant farmworkers who served in the Vietnam War, including his own. The book led to a 28-minute PBS documentary of the same name, which first ran in 2003. In the film, Trujillo says he's never liked the term "Mexican-American."
"When we were out in the field picking cotton, they called us 'Mexicans,' but when they wanted us to go fight in the war, they called us 'Americans.'"
When it comes to the story of Tiburcio Vasquez, Trujillo told me that white dudes have written most of the history, so the time is right for his version. He has interviewed historians, academics and even genealogists who've poured through correspondence from original Californios.
"There's a lot of legend, there's a lot of misconceptions," he told me. "I'm trying to unravel all those and give it a clear story, so in the end the audience will say, 'Well, maybe he was a bandit or maybe he was a revolutionary.' Well, he was a bandit, but maybe they'll see what his motives were and why. Towards the end of his career, he was saying if he had $50,000 he could start a whole revolution."
Trujillo's books and films are released on Chusma House Publications, his own endeavor: (www.chusmahouse.com) For the Vasquez film, he assures that the effort will be a valiant one: "When I put my documentary together, it's not going be one of vengeance or hate. It's to educate all people as to what was going on."
Contact Gary Singh or send a letter to the editor about this story.