12.03.08
home | metro silicon valley index | the arts | visual arts | review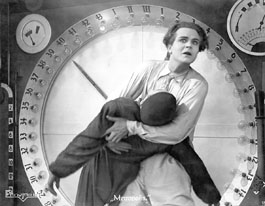 DIALING FOR DESTINY: Freder (Gustav Frölich) fights the future in 'Metropolis.'
Sounds of The City
Stanford Lively Arts unveils Martin Matalon's modern score for 'Metropolis'
By Richard von Busack
EVER SINCE IT was released, Fritz Lang's 1927 silent film Metropolis has been the stuff that nightmares are made of. It is a movie made by the light of a civilization in flames. Indeed, director Lang, the model of the monocled, dictatorial German film director, almost broiled his star Brigitte Helm during a burning-at-the-stake sequence.
The German Expressionist megalopolis of the title, a cybercity of Dis, has its towers where the effete rich dawdle; miles below, caverns are stuffed with slum workers, tending the machinery that keeps Metropolis alive. A saint of the slums, Maria (Helm), tries to calm the populace. Meanwhile, a vengeful mad doctor, Rotwang (Rudolph Klein-Rogge), creates a robot that will lead the workers into their own demise. Freder (Gustav Fröhlich), the princeling of the city, hallucinates the city's power plant as Moloch, the burning idol of Carthage.
Lang said that this vision came from his first trip to New York: "I saw the buildings like a vertical curtain, opalescent and very light. Filling the back of the stage, hanging from a sinister sky, in order to dazzle, to diffuse, to hypnotize." The political strife hanging over the Weimar Republic also infuses this film, with reactionaries on one side and Communists on the other.
As innovative as Metropolis is, with its Old Testament prophesizing and its scheming robots, at heart it counsels a cornfed, why-can't-we-all-get-along message. The film has attracted composers from Billy Squier to the Club Foot Orchestra. On Saturday (Dec. 6), the Santa Rosa Symphony presents the West Coast debut of a modern soundtrack by composer Martin Matalon at a screening of the film for Stanford Lively Arts.
An Argentine who went to Boston Conservatory and then to Juilliard, Matalon starting composing relatively late in life, as a 25-year-old. Matalon has written soundtracks for four silent films, including the trilogy by Luis Bunuel: The Andalusian Dog, The Age of Gold and Land Without Bread. Writing film music for Metropolis was different from any of his other classical work, he says, in a phone call from his home in Paris.
"It was virgin, and I liked it that way," Matalon says. "There are few reference points when you're writing film music. If you're doing an opera, you'll end up thinking of how operas have been written for four centuries, but in film composing there are very few traditions. Silent-film accompaniments were usually improvised, not counting the work by Shostakovich and Prokofiev. There was a score written for Metropolis [by Gottfried Huppertz], but it seemed to me that it was romantic music that could have been used anywhere."
While electronic music is part of Matalon's approach, he also decided to give the film a regional spin. "For personal musical reasons, I wanted a warm sound, some Latin: percussion, with tabla and some South American percussion, timbales, as well as electric guitar and fretless bass."
Martin Matalon has been living with this epochal film since 1993. "Metropolis is a revolutionary film, no doubt, it's a gigantic out-of-proportion futuristic vision, and still reflected today in Blade Runner and Batman. I first saw it when I was commissioned to do the soundtrack; I saw the Giorgio Moroder version, with its shorter running time. I started my version in 1993 and finished in 1995, and then rewrote the score for the 2001 version, requiring 10 new minutes of music."
There is not one version of Metropolis but several; they are all rivals resulting from the butchering of the first American release and from the film's years in the public domain. Sequences that seem nonsensical reveal their reasons for existing after more footage is found. The excellent 2001 version to be shown at Stanford turns out not to be the last word, either, since in July a badly scratched 16 mm negative was unearthed in a film museum, coincidentally in Argentina.
It may take some time for the digital restoration of this newest version. Some sources say the job will be done as early as 2009. Matalon says he's ready to add music when the next—this time for sure—complete Metropolis is ready to be seen: 'The Metropolis soundtrack is the most important work I've ever done."
 METROPOLIS with the SANTA ROSA SYMPHONY shows Saturday (Dec. 6) at 8pm at Memorial Auditorium, Stanford University. Tickets are $13–$25. (650.725.ARTS)
Send a letter to the editor about this story.