12.03.08
home | metro silicon valley index | the arts | books | review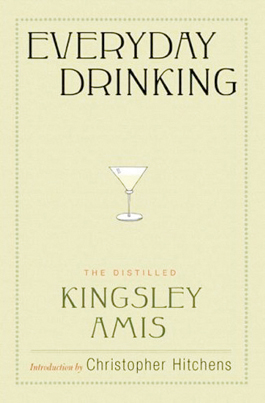 Everyday Drinking: The Distilled Kingsley Amis
Reviewed by Richard von Busack
IT SEEMS that "Kingers" was a fan of all things American, and I often wonder how long he would have lasted in our nation, where booze prices are so madly cheap. Sin taxes in England are commemorated in an exchange in the 1960 film Peeping Tom: "What are you thinking about?" [Sourly] "The price of whiskey." "Is that all?" "What else is there to think about?" Alas poor Kingsley Amis, you never lived to see a BevMo, and you never got to see how far the cause of real ale would progress on the Pacific Coast. However dexterous he was with a glass of whiskey, the sad truth is that Amis was baffled by wine: "Wine is a lot of trouble," he writes. And who can blame him; in his day, Algerian wine was passed off as French. With mystification on one hand and adulteration on the other, the French pranged their ancient enemies across the Channel. Solemnly quoting a British MD's advice that wine will muck up your system, Amis praised the nobility of single-malt instead; like the author, it was rare and didn't mix.
For whatever reasons, this collection of Amis' thoughts on drinking doesn't include the English language's best description of a hangover, from Amis' novel Lucky Jim, chapter six: "His mouth had been used as a latrine by some creature of the night, and then as its mausoleum. During the night, too, he'd somehow been on a cross-country run and then had been expertly beaten up by secret police. He felt bad." However, Amis' tips on this "pandemic" are useful, including the importance of separating the metaphysical hangover from the physical, the better to divide and conquer it. Sad music and reading Milton took care of the soul-sickness. For the physical part of this evil, he recommends a variety of cures, from vodka and hot bouillon to a strenuous regimen of coal mining.
For the most part, his cocktail recipes sound beastly and include odd ingredients such as "castor sugar." (Made from beavers, is it?) Amis slanders tequila and mescal (while accurately identifying the unique murderousness tequila can cause); his roster of bourbons fails to mention Maker's Mark. However the trivia questions at the end of the book are worthwhile, illuminating murky matters such as the abbreviations on the labels of German white wines. Is it true that each bottle of wine is the result of one cross-barred grapevine? We can claim it's so because Amis said so. (By Kingsley Amis; Bloomsbury USA; 302 page; $19.99 , Bloomsbury, 302pp)
Send a letter to the editor about this story.