12.03.08
home | metro silicon valley index | silicon valley restaurants | review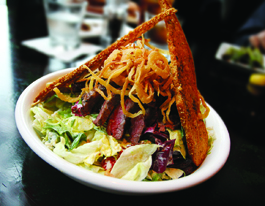 Photograph by Felipe Buitrago
SKIRT CHASING: The steakhouse Cobb salad at Billy Berk's
Happy Days Here Again
Billy Berk's brings a good-times vibe to the South First scene
By Stett Holbrook
INSIDE and out, downtown San Jose newcomer Billy Berk's is a head turner. The restaurant is located in the historic, 160-year-old Crescent Jewelers building on the corner of First and West San Fernando streets. The floor-to-ceiling windows, green marble exterior and retro-looking neon marquee give the place some big city glamour. Inside, the restaurant is as spacious as a hangar, yet cool and inviting with its exposed beam ceiling, beautiful old brick wall and rectangular bar in the middle of it all.
The restaurant is part of a slowly evolving First Street scene. Property owners have kicked in money for street beautification in the form of planter boxes, Christmas lights and other adornments to spruce up the commercial strip. On a metal fence covering a vacant lot next to Billy Berk's, artist Paul Gonzalez painted a bamboo forest scene with hungry pandas.
Billy Berk's looks and taste likes the offspring of the Hard Rock Café and Chili's. The restaurant's heavily branded appearance feels like it's part of a chain. It is part of the Max's World restaurant group, but the San Jose restaurant is the only one of its kind. There was a Billy Berk's in Chicago, but it folded.
One wall of the restaurant is decorated with classic rock album covers from the 1970s and 1980s. The same KFOG rockers dominate the sound system of Billy Berk's, too. The menu is a populist mix of hits and misses drawn from American, Mexican and Asian cuisine. While there are some more substantial entrees, most of the food is designed for sharing—appetizer-size portions, nibbles and finger foods. Paired with the bar's prodigious list of cocktails, wine and beer, the menu is essentially a giant list of bar food.
For starters, I liked the jack cheese and vegetable stuffed roasted pasilla pepper ($5). It's like a chile relleno without the breading. It's spicy, messy and good, and cries out for a cold beer to keep it company. The Melting Pot, a fondue restaurant across the street, may have closed, but Billy Berk's keeps the flame of gooey dipping alive with its delicious crab artichoke hot pot ($15). The crock of molten, cheesy dip is served with raw vegetables, taro chips and bread slices. It didn't last long at my table.
Billy Berk's offers a number of flat breads topped with premium ingredients. The Cambazola cheese, caramelized onion and bacon flat-bread ($10) get my vote for one of the best bar food snacks in San Jose.
For something a little more substantial, the barbecue pork sandwich ($16) was one of the best sandwiches I've had. The slow-roasted shoulder meat is piled into a soft, agreeable bun and paired with an excellent barbecue sauce that packs a vinegary bite. The roasted vegetable wrap ($8) rolls up bell peppers, spinach, avocado, mushroom, onions and tangy goat cheese in a tortilla and offers more than a token vegetarian offering.
The steakhouse Cobb salad ($13) will appeal to those who like the idea of a healthy salad but the taste of a fat-laden binge. The beefy salad includes strips of grilled skirt steak, blue cheese, bacon, avocado and ranch dressing. There are some lettuce leaves and tomatoes in there somewhere, but don't expect to lose any weight ordering this salad.
The seared ahi ($19) is thickly crusted with white and black sesame seeds, and while not cheap, is a pretty good deal given the quantity of the tuna. Too bad the cold ginger noodles served with it were such an oversweetened, soggy mess.
That same cloying sweetness extends to the Thai salmon ($16). While cooked well enough, the thick, syrupy sweet glaze on the salmon overwhelms it. 
Desserts offer little more than a cheap sugary jolt. The skillet-baked bread pudding ($8) is more bread than pudding and too dry, although the scoop of ice cream served with it helped. The heavy-handed chocolate fantasy cake ($8), layers of cheesecake, mousse and chocolate cake, lays it on as thick as Sarah Palin's makesup.
Service is generally fast and friendly, and matches the upbeat mood of the restaurant. Because of Billy Berk's good looks and good times vibe, it's easy to forgive some of the menu's shortcomings. I wouldn't come here for an anniversary dinner, but I would stop in for a casual lunch or meet up with friends for drinks and a quick bite after dark.
---
Billy Berk's
Address: 99 S. First St., San Jose.
Phone: 408.292.4300.
Hours: 11:30am–10pm Mon–Wed, 11:30am–11pm Thu, 11:30am–midnight Fri, 4pm–midnight Sat and 4–9pm Sun.
Cuisine: American comfort food.
Price Range: Most entrees $9–$16.
Web: www.maxsworld.com/billyberks/index.php
Send a letter to the editor about this story.