12.03.08
home | metro silicon valley index | movies | current reviews | film review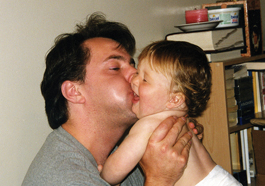 Photograph by David Bagby
LOVE LETTER: 'Dear Zachary' is the true story with a heartbreaking revelation.
Crime Watch
'Dear Zachary' director Kurt Kuenne returns
By Richard von Busack
FORMER LOCAL DIRECTOR and De Anza film school student Kurt Kuenne's Dear Zachary has made an impact everywhere from Slamdance to Cinequest 2008, where it was an audience hit. Currently, Dear Zachary is accomplishing the seemingly impossible by lasting four weeks in the current crowded indie market at New York City's Cinema Village. This weekend, Kuenne is bringing the film back in triumph to the Camera Cinemas in San Jose. Dear Zachary is an urgent account of the same crime that was the subject of David Bagby's bestseller Dance With the Devil. Locals know the details all too well. Kuenne's buddy Dr. Andrew Bagby, raised in Sunnyvale, was a surgical intern in rural Pennsylvania, where he was murdered by a psychotic resident. When the murderess escaped back home to Newfoundland, matters got far worse. This cinematic letter is written in heart's blood, and the peculiarly terrible details of this crime (as well as Kuenne's efforts to recapture Bagby's past) are deeply affecting. Since its release, Kuenne has been trying to get the Canadian Parliament to see his film. Says Kuenne, "I wrote a letter to every member when Dear Zachary showed at Hot Docs in Toronto. First, I was trying to contact them before the summer break, then in fall when they were running for office, and now they're going through the rounds of holiday parties. I asked a Canadian associate, 'When do these people get anything done?' and he said, 'Now you've asked the question every Canadian asks.'"
Kuenne says that no victims' rights groups have made the film a cause célèbre yet, but he's expecting more feedback after an MSNBC showing on Dec. 7. "Every time it screens," Kuenne says, "I get a constant stream of emails [from] people feeling compelled to write in. It's really good to hear from people, but it's emotionally draining—I feel a need to respond to these letters." Having carried this personal story for seven years, Kuenne is longing to do something comic next. He has made comedic short films that have played at Cinequest, and his script Mason Mule won the Nicholl Fellowship from the Academy of Motion Pictures, a $30,000 prize that he ploughed into Dear Zachary. Now he has a possible deal to make the film in Romania. "My idea is that it's Ferris Bueller meets Amélie meets Monty Python. We're hoping to shoot it in May." Naturally, there's a large audience that will never watch a documentary, no matter how affecting. "I had to be told that, because I didn't believe it," Kuenne said, and there has been discussion of a possible feature film about the Bagby tragedy. "I'm hesitant on it," he adds. "I've been approached by a major A-list director, someone I respect, about dramatizing it. I've been asked if I wanted to direct it myself. Absolutely not. It's too painful. Still, a feature film would be right next door to Dear Zachary on the Netflix queue. And if there was such a film, just like Dear Zachary, the proceeds would go to scholarship funds for Latrobe Hospital, where Andrew was interning, and the Newfoundland med school, where he graduated." Kuenne will host two shows in person on Dec. 5, and then he will appear at all the shows on Dec. 6, with Andrew's parents appearing for the late shows Saturday. The Bagbys, now living in Gilroy, will come to the San Jose screenings fresh from a flight out of Newfoundland. They're still on the road trying to prevent future tragedies.

DEAR ZACHARY: A LETTER TO A SON ABOUT HIS FATHER (Unrated; 95 min.), a film by Kurt Kuenne, opens Dec. 5 fat Camera 3 in San Jose.
Click Here to Talk About Movies at Metro's New Blog
Send a letter to the editor about this story.