12.03.08
home | metro silicon valley index | movies | current reviews | film review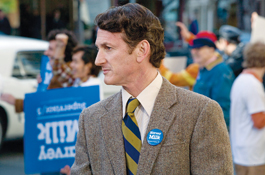 Photograph by Phil Bray
RECRUITER: Sean Penn's Harvey Milk was a tireless politician and activist.
A Sense Of Hope
Sean Penn's 'Milk' is audacious and fun to watch—the last thing we expect from a martyr's biopic
By Richard von Busack
BIOPICS are notorious for bleaching a director's style; they turn every moviemaker into Taylor Hackford. One of the many surprises of Milk is that it is thoroughly a Gus Van Sant movie. The use of negative space and the concentration on quiet moments of people chafing in their own skin could only be the mark of the director who worked on so many experimental films (some of them exasperating, yes). Milk's relationship with the charismatic but troubled Jack (Diego Luna) echoes Van Sant's first film, Mala Noche; the scene of Dan White walking through the corridors of San Francisco City Hall recalls the long tracking shots in Elephant.
The boldness appears early on. Not very long into the movie, Van Sant tells the fate of Harvey Milk through a TV news clip of Dianne Feinstein on Nov. 27, 1978. Having gotten that out of the way, Milk follows its trail from dim, closed-in or low-lit spaces to the outdoors. Cramped flats and crowded storefronts give way to political rallies in full daylight. Milk chronicles 10 key years in the history of the gay liberation movement. And it gives you all the visuals you need to make you realize what an astounding journey it was. 
Milk's intelligence shows at the beginning and the end of the film: a bull-and-matador scene in which Josh Brolin's drunken Dan White confronts Sean Penn's Harvey Milk at a party at City Hall. Both men are two small figures in the corner of a large chamber. White is almost violent, but he's also almost ridiculous. He seems so lost that it might be possible to enlighten him, to tell him that gay liberation wasn't going to be the end of the world. You can see why Milk risked it, trying to appeal to White's tolerance. But on another level, Dan White is drawn to Milk the way that Elmer Fudd is drawn to Bugs Bunny.
In Van Sant's telling, Milk begins as just another furtive gay guy on the IRT, picking up a man named Scott (James Franco) on a staircase, leaning against him against the white tiles of an offscreen subway station. This is the evening Milk is turning 40, and he's a little too old for this pickup. But he has a good way with words and manages to convince Scott to come home with him.
The two run away to San Francisco in the early 1970s. There Milk starts a camera shop on Castro Street, where the gay ghetto is already forming. Some of the locals hate the new arrivals. The police harass and beat the homosexuals whenever they get a chance.
After organizing the neighborhood self-defense, Milk takes up local politics. Running for state Assembly and then supervisor, Milk bypasses the Democratic machine at first. District elections give Milk a power base and finally a chance to become a national hero: the first openly gay city politician.
The backlash comes thick and fast. The former beauty queen Anita Bryant leads a campaign against a gay rights ordinance in Miami. This Palin of her time flaunts the old fear, claiming children will be recruited to a deviant life style. Thus Milk's standard speech opening: "My name is Harvey Milk, and I'm here to recruit you."
Not all of scriptwriter Dustin Lance Black's wisecracks are that fresh. Milk refers to his friend, a former street hustler called Cleve (Emile Hirsch), as "Phoenix" because he's from that town. Worse yet is Cleve's explanation for excusing himself from politics: "I don't do losing"—that's not just dumb, that's an anachronism.
Dan White, Milk's regular opponent on the San Francisco Board of Supervisors, is probably the most hated figure San Francisco ever produced. Yet Van Sant is a big enough artist to see things from White's side. Brolin has done some startlingly good acting over the last couple of years, but nothing this good.
Milk perplexes White to the extreme; the gay man tries to be friendly, but he can't resist teasing this solitary, strange ex-cop, a beefy Irishman in a mortician's black suit. Being gay, Milk thinks White is a closet case.
Fortunately, that's too simple an explanation for Van Sant and Brolin. In this sensational bit of supporting acting, Brolin makes otherness, discomfort and mysterious shame seem fascinating. Surely Van Sant got closer to this particular enigma than he did to the mystery of the Columbine killers in Elephant.
A film this timely is rare—usually, a movie lags, coming a year and a half after whatever public mood came and went. But the tactics of allegedly pro-family politicians don't change; neither does the right way to oppose them. "You got to give them hope," Milk says to the hopeless politician White. We can accept Milk's message of hope because we've lived to see the uselessness of White's last-ditch attempt to stop history.
Penn plays Milk as a cordial, suave and funny man, but one with a habit of secrecy; the squirrelly, nervy quality of Penn is beautifully suited for all the sides of this role. Penn makes this hero a man who is fun to watch. That's the last thing you expect from a martyr's biopic.
And rather than a sense of hopeless loss, Milk leaves you with a sense that progress can win, beginning as it does with documentary footage of police raids on gay bars and ending with a river of candlelight rolling down Market Street from the foot of Twin Peaks to City Hall.  

MILK  (R; 128 min.), directed by Gus Van Sant, written by Dustin Lance Black, photographed by Harris Savides and starring Sean Penn and Josh Brolin, opens Dec. 5.
Click Here to Talk About Movies at Metro's New Blog
Send a letter to the editor about this story.