12.03.08
home | metro silicon valley index | music & nightlife | band review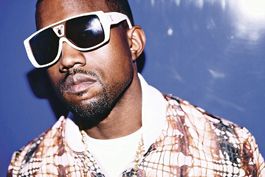 OK Vocoder:
What hell hath Cher wrought?
Vocoded
Kanye West 2.0 arrives with mixed results
By David Sason
KANYE WEST is known more for his lack of impulse control than for his work. From award-show tantrums and impassioned telethon declarations ("George Bush doesn't care about black people") to paparazzi scuffles to his recent proclamation that he's the voice of his generation, the audacious rapper-producer stands alone in terms of sheer gall. But his outbursts, described by one journalist as performance art, wouldn't matter if not for his impressive catalog, supplemented by his newest release 808s & Heartbreak, where West finally leaves his boastful, aggressive comfort zone.
It was only four years ago that West revitalized hip-hop with his landmark debut The College Dropout. Uncommonly armed with his real name, autobiographical stories and catchy sped-up soul samples, the Chicagoan extended "conscious" hip-hop to the "self" and crossed demographics like no other since The Miseducation of Lauryn Hill. Hip-hop fans wanting more than bling-bling or bang-bang relished a thoughtful new voice amid a sea of clones.
But 2007 ended the era where the quality of West's work outshone his public childishness. Graduation, the culmination of his college-motif trilogy, showed West as a burned-out student, his familiar samples, elementary MC skills and personal contradictions more tedious than revelatory. His headlines took a sad turn upon the breakup with his longtime girlfriend and the death of his mother, the subject of 2005's touching tribute "Hey Mama."
It's no surprise, then, that 808s & Heartbreak intersects West's work and personal life like never before. Throughout the aptly titled album, whose cover shows a deflated balloon heart, the rapper presents vulnerable diary entries full of grief and bitterness. Musically, the record described by West as "minimal but functional" draws on the entire history of electronic music, from New Wave and trip-hop to industrial and his hometown's own Chicago house.
"Say You Will" opens the album with a slow trip-hop beat, computer blips and a distant choir, evoking Depeche Mode or Massive Attack. West sounds downright obsessed. "Hey, hey, hey, hey," he sings robotically through Auto-Tune (the "vocoder effect," which he uses on every track), "don't say you will, unless you will." A startling two-minute-plus instrumental coda leads into "Welcome to Heartbreak," which is full of regrets. "My friend showed me pictures of my kids," West tells us, "and all I could show him was pictures of my cribs."
But most songs decry his victimization by an unnamed woman, most notably in the new single "Heartless," whose syncopated synth jabs make it the most immediately pleasing track on the album. This grows incredibly tiresome by the time you get to West's surveillance complaint "RoboCop," whose soaring chorus is more Killers than U2.
What's understandable is West's near-avoidance of his mother, whose sole mention appears in brief finale "Coldest Winter." "Goodbye my friend/ Will I never love again," he painfully sings to his mom, whose passing is barely a year old. Most poignant is his understated couplet, "It's four a.m. and I can't sleep/ Her love is all that I can see."
Though certainly a bold move, 808s is monotonous after the initial shock wears off. Most detrimental are West's lackluster vocals, not so much in their meager range but in their relative stagnation within it. Coupled with weak melodies, Kid A–like lyrical repetitions become droning instead of entrancing. Young Jeezy's guest spot on "Amazing" is a welcome diversion, as is flinty-voiced Lil' Wayne, whose own enthralling Auto-Tuned vocals save the eerie kiss-off of "See You in My Nightmares." While the constant vocoder effect is anything but innovative after T-Pain and recent tracks by Snoop Dogg and R. Kelly, West's exorcising of demons with a method forever identified with funky party jams is inventive. And his decision, or compulsion, to so enshroud his most vulnerable words is the album's most fascinating aspect. Artistically, it's relieving to find his sense of exploration intact, even if this particular collection is hit-and-miss.
Send a letter to the editor about this story.