12.03.08
home | metro silicon valley index | columns | silicon veggie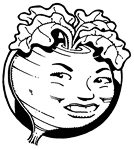 Silicon Veggie
Vegan Improv
By Elisa Camahort
ON A rainy night a few weeks ago I had big plans to try a new vegan restaurant in downtown Palo Alto. Named Loving Hut, it is a casual place, focused on Asian-style cuisine with faux meat. The S.O. and I were meeting another couple, who had agreed to drive down from San Francisco in the rain to eat vegan food with us. I was pretty excited. You can imagine my shock and dismay when a little hand-written sign in the window told me that Loving Hut had decided to close early that day. This on a Saturday night!
My friends were already waiting at the bar in Lavanda Restaurant, a half block from Loving Hut. Feeling a bit put out and not a lot like walking around in the rain, I asked the hostess at Lavanda if they could accommodate a vegan. Two minutes with the chef, and she was back, with these magic words: "Vegan Risotto." Sold!
So, instead of a quick bite in more of a lunch deli-type environment, we sat down for a lovely dinner in a much more genteel atmosphere.
Soon I was happily imbibing a nice syrah and chowing down on an heirloom beet salad, sans goat cheese in my case ($11). One of my dining companions ordered the persimmon salad, so I got my first bite ever of that fruit. It was very tasty—not so different from the beets, actually. Good enough that I bought persimmons at the farmers market the very next week.
My salad was followed by the promised risotto, in this case a butternut squash risotto ($16). While typical risottos are heavy (due to copious amounts of butter and cream), vegan risottos are usually just as savory, but half as heavy. This was no exception, and the bright orange color of the diced squash also brightened up the visual presentation too. I confess to eating every bite.
Finally, Lavanda does include vegan sorbets ($8) on its dessert menu, so I was even able to close out the meal with a sweet nothing.
Yes, I'll be giving Loving Hut another shot, but Lavanda proves the point I've made before: Ask and ye shall receive. A fine restaurant does not mind going off-menu to satisfy a customer. And on a dark and stormy night, Lavanda provided tasty shelter indeed!
Lavanda Restaurant
185 University Ave.
Palo Alto
650.321.3514
[ http://www.lavandarestaurant.com/ ]www.lavandarestaurant.com/
Send a letter to the editor about this story.