12.05.07
home | metro silicon valley index | columns | 5 things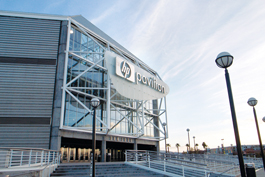 5 Things to Love
Restaurants Near HP Pavilion
By Stett Holbrook
FOR THOSE about to rock—make sure you have dinner first. Here are five places to grab a good meal before you get it on at San Jose's HP Pavilion.
Amici's East Coast Pizzeria Good pizza in an upscale setting. 225 W. Santa Clara St., San Jose. 408.289.9000.
La Pastaia Set in the classy Hotel De Anza, La Pastaia continues to serves top-notch Italian food with a contemporary flare. 233 W. Santa Clara St., San Jose. 408.286.8686.
Paolo's Open since 1958, elegant Paolo's stays fresh with inventive, updated versions of regional Italian food. 333 W. San Carlos St., San Jose. 408.294.2558.
Poor House Bistro Poor House Bistro serves po' boys, muffaletta sandwiches, gumbo and other good-time New Orleans specialties just a few blocks away from the HP Pavilion. 91 S. Autumn St., San Jose. 408.292.5837.
Seven Restaurant and Lounge Before you head to the show, drink and dine in style at swank Seven Restaurant and Lounge. 754 The Alameda, San Jose. 408.280.1644.
Send a letter to the editor about this story.