12.05.07
home | metro silicon valley index | columns | silicon alleys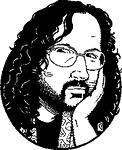 Silicon Alleys
Multiplicity
By Gary Singh
WHENEVER I contemplate the abstract mutant personalities employed by this column, I try to justify the schizophrenic nature of it all with Deleuze and Guattari's concept of the rhizome. Crudely simplified, a rhizome is anything acentered and nonhierarchical or something that branches upward in a multiplicity of trajectories, creating a fabric of heightened states between which any number of connecting routes might exist.
Just during the last few weeks, several of these characters have manifested themselves yet again. If you've been keeping track of this column, you'll recognize them immediately and now is a perfect time for roll call. Each creature is now raising its hand with a resounding shout of "Here!"
1.  The urban blight exploration junkie. This person has a psychological dependence on discovering run-down wasteland neighborhoods. He searches out these locales even when it harms friends, family and co-workers. He must infiltrate that next rat-infested San Jose vacant lot no matter what cost. Due to low self-esteem, he feels he has no control over his environment, i.e., everything remotely interesting left in his home town is being wiped away and replaced by hideous housing projects that all look exactly the same, with the perpetrators bizarrely touting such endeavors as if they were accomplishments. And then the city's apologists wonder why everyone who comes here pegs it as a place with no identity.
 2.  The travel writer. Just last week, he found himself at the annual Travel Media Showcase in Palm Springs—an event where journalists are invited to meet one-on-one with convention and visitors bureaus (CVBs) from all over the United States to discuss potential story ideas. The CVBs hype their prospective cities and supply loads of background material on a broad range of tourism topics designed to help travel writers. For whatever reason, the San Jose CVB never attends any of these events. Among others, this particular one saw tourism reps from Boise, Akron and Waco, but not San Jose. In any case, it was his first trip to the city that elected the immortal Sonny Bono as mayor, whose statue in downtown Palm Springs is far more appealing than the Thomas Fallon statue in San Jose.
3.  The soccer journalist. He grew up with that game back in the '70s when it was the only major sport San Jose had. Even though he followed every other sport, he took to soccer and also began watching the European leagues on public television at the age of 8. So like any real sports fan, he gets irritated when old-school American sports writers—almost all of them white males over 50—constantly go out of their way to attack a game they've never known and then wonder why its fans get defensive and hypersenstive. Also, the journalist was naturally intrigued to see the recent return of Frank Yallop to coach the new version of the Earthquakes, a team he led to two championships in three years. After that, for whatever reason, the owners Anschutz Entertainment Group (AEG) wanted nothing to do with San Jose and eventually moved the team to Houston where it immediately won two more championships in its first two seasons. The city of Houston, its leaders and its media have now overwhelmingly taken in the team.
4.  The Anti-Man-About-Town. This one is clear cut. He wants to be a punk rock version of Don Rickles while floundering in Camus-like hopelessness due to the absurdities exemplified by every decision made in this entire city. The first piece of commentary he ever penned for Metro in 2002 was a ridicule of the "coming soon" sign suddenly plastered across what was supposed to be the new House of Blues downtown, when everybody already knew it wasn't going to happen. Now he sees lettering on the empty side of City Hall near downtown that says "Restaurants coming soon."
Contact Gary Singh or send a letter to the editor about this story.