12.05.07
home | metro silicon valley index | the arts | books | review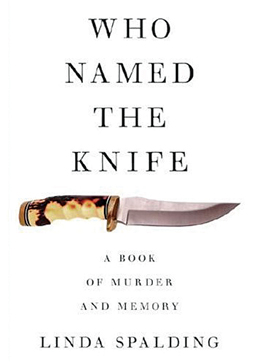 Who Named the Knife:
A Book of Murder and Memory
Review by Richard von Busack
Every bit as fraught as its title, Linda Spalding's Who Named the Knife is a glassine web of Didionesque passive sentences, re-creating a crime in Hawaii in 1978. The execution-style robbery/murder of Larry Hasker took place in a scenic overlook, where the unfortunate man had stopped to have a pee: Spalding declares, "There is no shame in dying in the act of emptying oneself. In such a place." That's because of the fine view, you understand, although these lines echo Ed Wood Jr.'s classic hardboilism: "Murder. And that means someone's responsible." When the facts of the case are laid out, the book improves. Spalding traces a pair of wrathful, petty-crime-prone lives in the Southwest, as well as the murder itself. There is a personal connection, after all. In Honolulu, Spalding was a juror on the Hasker case but was dismissed before the judge sentenced Maryann Acker for murder. Apparently, Maryann took the fall because of her husband William Acker's testimony. In her investigations, Spalding recalls her initial wrath at Maryann so many years ago in the courtroom ("I wanted to jump up and grab Maryann"). After becoming the woman's prison pen pal and friend, the author discovers remarkable similarities between Maryann's life and her own and wonders at the there-but-for-the-grace-of-God of it all. In the background of this true-crime account, the author describes rebounding from a divorce so bitter she can only refer to it indirectly. Similarly, Spalding seems to be looking at the crime in question as if she were viewing herself in a hand mirror and describing what she saw in a corner of the glass. (By Linda Spalding; Pantheon; 252 pages; $23.95 cloth)
Send a letter to the editor about this story.